What's Knittin'? Campfire Songs + Wool and Honey Sweater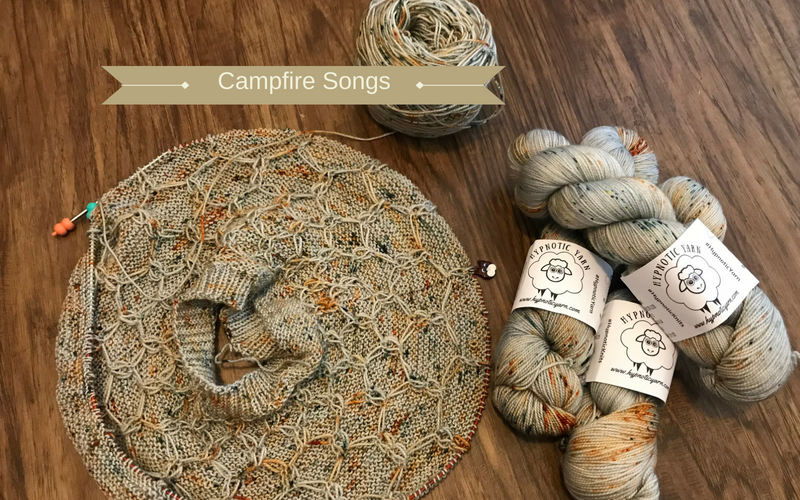 Howdy yall!
The Hypno-blog is still in it's infancy. Currently the blog contains the bi-weekly interview series, monthly mystery yarn club reveal videos, and new pattern release information posts.  To extend the blog repertoire, I'd like to introduce "What's Knittin'?"  These will be regular knitting status updates discussing what Cheryl and I are knitting, what is planned next, new colorways in the shop, and whatever else that seems interesting.
Occasionally, Cheryl will text me a photo of a newly dyed yarn and ask me for name suggestions.  To be honest, I don't think she's ever outright asked for me for name suggestions. I just give her my unsolicited opinion.  This happened with Campfire Songs, which debuted in June.  I received the text photo and the range of grey tones (ashes) and the burnt orange speckles (ambers) reminded me of a campfire and I suggested that to her.  Cheryl originally named it "Songs around the Campfire" before shortening it. I personally think it is a perfect name.
At the exact same time, Andrea Mowry (Drea Renee Knits) released the Wool and Honey Sweater.  I immediately fell in love with the honeycomb design. Her choice of solid yarn color was per-FECT. I adore any nature style stitch: leaves, flowers, vines, etc.  Plus a cozy sweater-SIGN ME UP!
This is my first Drea Renee Knits pattern to start.  I purchased the So Faded Sweater during her birthday sale a few weeks ago.  I have 2 of the yarns picked out (both are OOAKs that Cheryl had many months ago), but need to find 3 more to match. 
I purchased the Wool and Honey pattern and immediately went to the HY website and debated between Campfire Songs and Sage (both fingering weight).  Sage was an OOAK that grabbed my heart.  I'll let the picture speak for itself.  Sage was on a SPARKLE base-bring me to my knees!  Green is by far my favorite color, but Campfire Songs is gorgeous.  I was a ping pong ball for hours trying to decide.  In the end, I picked Campfire Songs and grabbed 4 skeins to make the Wool and Honey sweater.
Sage OOAK (from June)
I started Wool and Honey on August 13th.  Choosing a size was difficult.  I've knitted one sweater and it turned out too large and I dislike it for that fact alone (I plan to frog the entire project).  I was gun-shy to make the same mistake again. Based on the measurements, tester comments, gauge, and desired finished fit; I went with the XS, rather than S, knowing that I would most likely make the sweater and sleeves longer than the pattern calls for. OMG!  I hope 4 skeins (1600 yards) is enough!
Beginning photo from August 13th.
 So far, the neck is tighter than I would prefer.  I should be able to block it much wider so it's not so turtleneck-ish.  The pattern is very simple, probably advanced beginner, and I haven't made any glaring errors (yet). In fact, I've had to tink very little.  *knock on wood* If you are confident with garter stitch in the round (knit a round, purl a round) and slipping stitches; you can knit this sweater.
My BFF, Justina,  bought the pattern the same day as I did. (I mentioned Justina in my Interview Series.  Not only did she get me back into knitting, but she has taught me so much AND she was the person who introduced me to Cheryl.) She started the sweater WAY before I did, but took a break from Wool and Honey to design her own sweater.  I texted her one day saying I was finally going to start knitting Wool and Honey because I was in a design funk.  Since then, she and I have been neck and neck (I like my puns intended) with who's ahead of who.  This very unintentional race is probably good for both of us so we have them finished by winter.  LOL
Justina's progress as of August 22nd.
 My progress as of August 22nd. 
It looks like we were are on the exact same row.  I knitted 6 more rows that night.  It's on like Donkey Kong, Justina!
Justina told me she chose size small and "forgot" to swatch and is afraid it will be too big.  I swatched and decided to size down and am afraid it will be too small.  HAHA.  There is a meme floating around the Facebook world of a lady asking her husband if he wants his knitted sweater too small or too big.  I feel that is exactly where are are at now.  I'll laugh about this until I cry when my sweater doesn't fit. LOL
Shop update:
Cheryl dyed up a beautiful set of Fall yarn.  Many of the colorways coordinate well with each other for those larger projects or for hoarding purposes.  You can check out all the new colorways in the shop; including the most popular Leaf Peeping.  It is still available on Sexy Singles, DK, and Worsted.  Coordinates for Leaf Peeping are Mermaid Tears, Almond Milk, and Baby's Breath. If you are looking to make your project irresistible, you could add a strand of Ruby Slippers Mohair.
The yarn I'd like to highlight this week is Grandpa's Cardigan.  No, I do not think this colorway is only for men, BUT it is a great variegate for men.  It is an OOAK, so if you are already thinking Christmas presents; you might want to snatch the remaining skeins to make the special man in your life the perfect socks!
Grandpa's Cardigan
Thanks for reading the entire blog post!  I'll be back soon with a sweater update as well as more yarn highlights!
Happy Fri-YAY! May you get a lot of crafting done over the weekend!