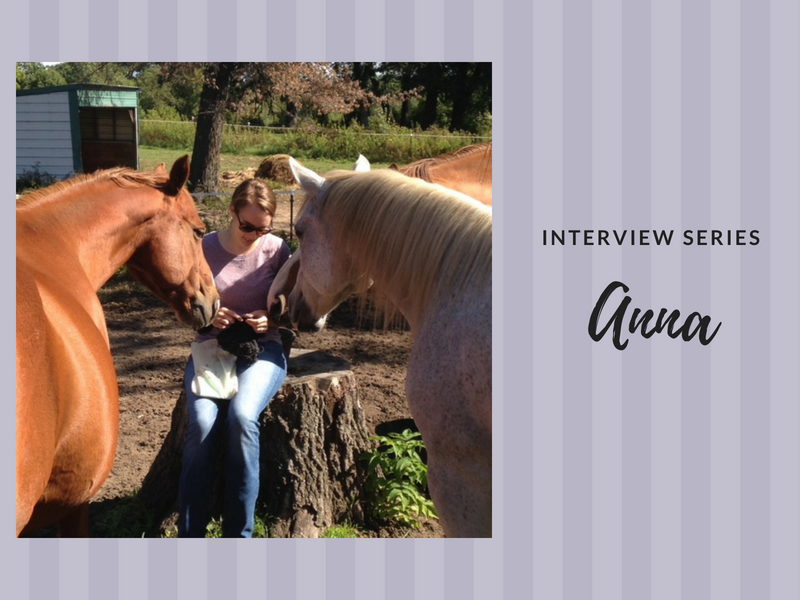 Hey readers!  We have Anna aka aersknits on the blog today.  She sells knitting patterns on Ravelry and she is a fabulous Tech Editor and a dear friend.
Q: Thanks for coming, Anna! Why did you start knitting and how did you learn?
A: I started knitting because I thought it looked like magic being able to turn something relatively 2D ("string") into a 3D finished piece - a wearable item. I also thought it looked easier and more portable than sewing!
My sister took a beginning class, and then she showed me everything she learned. From there, I taught myself everything else from books. Unfortunately, my sister didn't catch on like I did - she still is at the hat and scarf knitting level! But it's okay, as I knit presents for her a lot. :-)
Q: You have a very lucky sister!  Do you have a favorite type of project or design element?
A: Short answer: I love worsted weight projects. Long answer: I am most happy with worsted weight 100% wool on size US 7 needles - and especially in a top-down sweater with minimal finishing!
Q: We must be soul sisters.  That sounds like the most perfect project ever!  Do you have a favorite yarn weight? What types of colorways are you drawn to?
A: My hands appreciate DK and worsted weights the most. I really love muted, earthy and neutral tones. But, the #specklesaresohotrightnow trend drew me in to knit a crazy-color, fingering weight shawl earlier this year! It's really hard to ignore all of the awesome colors of fingering weight yarn that indie dyers have available now!
Q: Yes, yarn, in general, is hard to ignore.  Are you a yarn hoarder or do you only buy with specific patterns in mind?
A: Well, when my yarn binging was at its worst, I'd buy yarn online and send the packages to work instead of my home address!! I finally realized my "habit" was getting a little too crazy when even my coworkers started to joke about the amount of packages coming to work - plus I reached 16 tubs full of yarn at home. So I went cold turkey, and my "LDY" (Last Day of Yarn) was from the Minnesota Knitters' Guild Yarnover marketplace on April 28. We will see how long I make it!
... I just learned how to spin within the last month, and I bought a wheel and fiber as well - but that does NOT count as breaking my yarn diet!! ;-)
Q: Nope.  Doesn't count in the slightly as you are not purchasing any yarn. Do you have a favorite FO? What makes it so special?
A: Oh gosh, this is a tricky one!! I love 99.9% of everything I have knit (there's always the few weird FOs). But I suppose my most special FO is the white sweater I knit to wear at my winter wedding. I used fingering weight yarn (surprisingly!), and it came out exactly as I had imagined. The pattern is the Bayside Pullover by Hannah Fettig. I made a few tiny modifications to the cable direction and the ribbing edge, but otherwise it is a wonderful top-down sweater. It also received a 4th place ribbon at the Minnesota State Fair!
Q: Congrats!  You and the sweater and absolutely stunning!  What do you like most about knitting?
A: I appreciate feeling "productive" when I am sitting/standing/in the car/watching TV/etc. I also appreciate it in other ways - the meditative quality and the opportunity to be a perfectionist. Perhaps a paradox there of "meditative" and being a "perfectionist", but once I feel like I have mastered a pattern stitch or section, I am able to knit on it mindlessly (except for those few tricky lace or color projects). I also love the community it has given me - virtually meeting designers through technical editing, connecting with knitters on Ravelry, sharing in KALs, and also within a local knitting group.
Q: What patterns are on your short list to make in 2018?
A: I just started a pair of socks in the Treat Your Feet base in color Hatchling - so of course I want those done pronto! Otherwise, I have a few projects I want to finish for the Minnesota State Fair. This will be my 7th year entering projects. I just cast on For A Good Egg by Deb Hoss, and I have a few more planned before the deadline in August. After that deadline, I need to cast on my Marie Wallen "Lerwick" Fair Isle kit that I ordered a year ago - I have been too intimidated to start it!!
Q: With you mad skills, you shouldn't be intimidated! Do you go to an in person or online knitting group?
A: I started a local knitting group four years ago. Since then, not only have we increased members, but also we meet TWICE a week now!! It is awesome. I also learned how to spin because of the knitters encouraging me to learn together at a weekend class - that is something I would have not pursued on my own. I also participated in the Minnesota Yarn Shop Hop thanks to a knitter in the group! Again, not something I would do on my own, so it is so nice to have fiber friends!
Minnesota also has a wonderful state guild - the Minnesota Knitters' Guild. I try to attend their monthly meetings here and there, and they have a wonderful Yarnover annual event (come check it out!) every April. There are many classes and a huge marketplace.
Q: What a great fiber community! Do you have a favorite LYS or two? Tell us about them.
A: The Twin Cities area in Minnesota is a wonderful place for yarn stores. I really enjoy The Yarnery, Darn Knit Anyway, and StevenBe's when I am in those areas. They all are a little different - The Yarnery has projects that are classic and inspiring; Darn Knit Anyway always has projects that I want to cast on NOW, as well as yarn for any budget; and StevenBe's - well, you just never know what you'll find there!! As mentioned, I just did the full Minnesota Yarn Shop Hop earlier this year in April - we went over 250 miles in one day to 15 stores. It was so fun to check out stores I have never been to!
Q: Do you have a favorite knitting resource, link, video or any a tip / trick you can share?
A: My favorite tip is for hats. I finish them with the Kitchener stitch. Finish the top decreasing with an even stitch count, between 8-16 stitches, and seam it up! It leaves a nice top. Of course, it isn't the right finishing style for every hat crown design, but I use that on just about every hat I knit.
Q: I've never considered that!  Great tip! Do you crochet, weave, spin, or sew? What other crafts / hobbies to you enjoy when you're not knitting?
A: I just learned how to spin this year, and promptly bought a used Ashford Traveller wheel. Then, in the same week, I attended the Shepherd's Harvest fiber event here in Minnesota, and I bought enough fiber to spin yarn for a sweater! Yikes! I jumped with both feet in to this craft!
Q: Is there anything you wished I'd asked and didn't? Tell us anyway!
No! I just REALLY appreciate this fantastic opportunity - it is very kind of you to ask me, and I hope my answers are interesting enough!! :-)
We think you are VERY interesting, Anna!
Quick Fire questions:
Q: Which Hogwarts house do you belong to?
A: Gryffindor
Q: Go-to sock pattern?
A: "If" I'd knit a sock pattern more than once: Socks 101 - a free sock recipe pattern
https://www.ravelry.com/patterns/library/socks-101
Q: What color is your toothbrush?
A: Purple
Q: If you could be any animal what would it be?
A: White Tiger
Q: Who is your favorite super hero?
A: Movie version: Dr. Strange or Star Lord
Q: Do you knit in public?
A: Yes!
Q: Favorite snack food?
A: Chocolate
Q: Are you a morning or a night person?
A: Either as long as there is yarn!
Q: Where would you go if you were invisible?
A: An ice cream factory
Q: Do you block your socks?
 A: Yes!
Tell us a little about yourself:
I am an avid (selfish) knitter that also tech edits patterns for knitting designers - I assist them in making sure their patterns are ready to publish by checking the layout, math, and instructions.
I love having yearly personal knitting goals centered on specific types of projects to enter in the Minnesota State Fair - there are less than 90 days until projects are due for 2018, and I still have five WIPs I want to finish!
I have a non-knitting fur-baby buddy - a brown quarter horse that just turned 20 years old. I tried knitting by him once, but he was just convinced I was there to feed him carrots.
I tried blogging for a while, but I found it took too much time away from knitting! But I do enjoy connecting with knitters on Instagram and Ravelry. There is an amazing virtual community!
Instagram and Ravelry: aersknits
I recently cast on the Beekeeper Socks pattern by Jenn Emerson using the Treat Your Feet base in the Hatchling color that I bought during the Minnesota Yarn Shop Hop in April. It is such a gorgeous color with the pattern, and I can't wait to see my progress.
 Thank you, Anna!  You were an absolutely joy to have on the blog today. Best of luck in the State Fair!