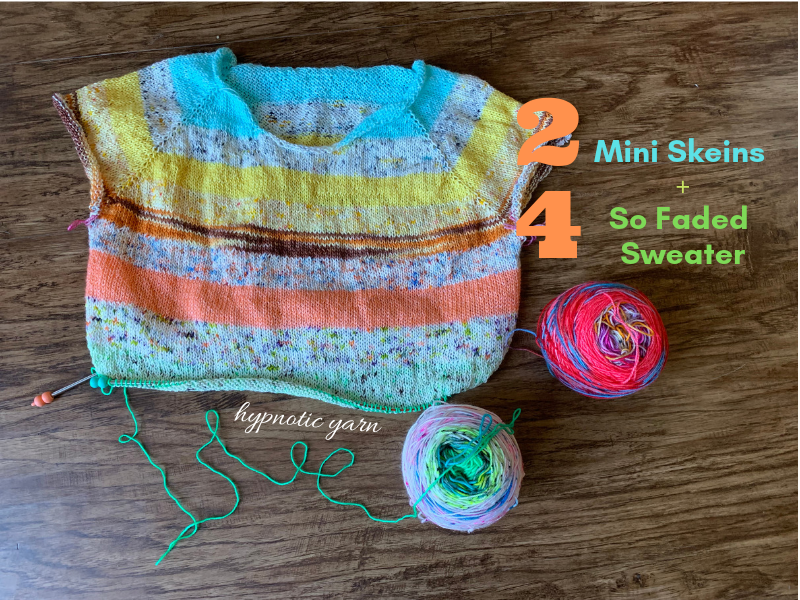 It seems I've had a looonnngg hiatus from the blog!  During my time off, my family took a week vacation to ski at Lake Tahoe. Then I had a week of sleeping in two hours later than usual to 8am-pure glory!  Now I'm back to the grind of knitting, sewing, and working.
After completing my Wool and Honey sweater last fall, I promised y'all my next blog project would be the So Faded Sweater. I got distracted with the 12 Holly Days, but here we are a few months later making good on that promise!
I had planned to use these colors for the So Faded Sweater.
Left to right is: Almond Milk, Boot Weather, OOAK # 3, and Eggplant. All of which are sold out at the moment.  Sorry friends.
BUT, there is always a but! then I received the 24 mini skeins from the advent calendar kit.  I racked my brain wondering what I would do with 24 mini skeins (10 grams, 46 yards each).  That is a lot of sock heels and toes!  I really couldn't come up with anything else to do with them.  One afternoon in December, for complete funsies, I put the minis in a pretty little fade circle.
Isn't it dreamy?! BAM!  Light bulb!  Why not magic knot all these pretties together into a fade? So that is exactly what I did. 
24 minis x 46 yards each is 1,104 total yards. 
Size small cropped version uses 870 yards. 
Small Classic version with long sleeves uses 1196. 
I have just under the classic version-which I would prefer to knit.  What I will probably do is sneak in a little bit of my Hypnotic Yarn scraps to my wheel of beauty to add approximately 100 more yards for the classic version.
I started with the sold blue on the bottom left (pic above), counted 8 minis and wound those together.  Then wound the next 8, and the final 8. I labeled my skeins 1-3.  I didn't trust myself to keep them in the correct order. 
I cast on December 19th and flew through the Yoke Section 1.  I got to the last round of Yoke Section 2 and realized I was missing 12 stitches.  WHAT?!
I re-read through the instructions trying to figure out what went wrong.  I had not read a little sentence that says " CO 12 stitches" before joining work in round.  Oppsies!
Tink or Rip?  That is the question. I begin by tinking but with 250+ stitches per round at 18 rounds....yea, that would be forever.  I took the stitches off the needles and ripped it back.  I never put progress keepers in my work.  I really, REALLY should so I know when the next section begins.  You'd think I would have learned my lesson by now.  But I haven't, and probably won't in the future.  HAHA!  Though I did just order two new stitch markers from Ann Tutor on Wednesday.  I nabbed her new Rainbow and a 3D sheep. She's amazing!
Once I corrected my error, I finished the yoke increases and separated the sleeves and have breezed through the body.  I plan to knit the classic length.  I need to try my sweater on.  I haven't yet-which seems dangerous.  Do you see a trend in my knitting?  "Danger Zone" is my crafting song.  It works out....90% of the time.
I have a few more inches to knit for the body.  For the sleeves, I will rewind my mini to divide each color in half.  I think I want the sleeves to match each other.  They won't match the body, but I think it will look better if the sleeves at least match.  Plus, I'll need to add in a little bit more yarn to make full length sleeves.
I'm already on the hunt for the next sweater pattern.  Here are the options I'm considering.  Raindrops by Tin Can Knits, No Frills by Petite Knit, or After Five Sweater by Ruth Garcia-Alcantud.
Tell me!  What do you think of my mini fade sweater?  Like it?  Too wild and bold?
And what do you think my next sweater should be? Do you like one of the three I linked or, better yet, do you have another suggestion?
Thanks for reading and happy crafting!
-Brianne