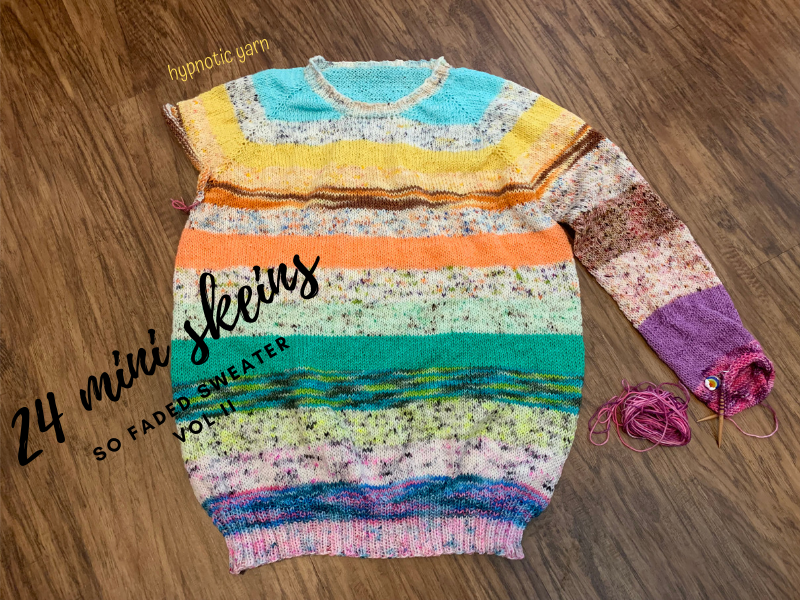 Howdy!
Welcome back for volume II of So Faded sweater using the 24 mini skeins that were apart of the advent calendar kit.
As a reminder, I magic knotted the 24 mini skeins together into a fade of sorts.
I finished the sweater body on Sunday.  This sweater is straight stockinette and knits up SO FAST, not to mention how easy it is. I was afraid I would be about 100 yards short, so I used a little bit of yarn from my stash for the neckline.  I used Hatchling since it flowed well with the bright teal of the top yoke. 
After I completed the sweater body, I divided all of the remaining mini skeins in half.  I placed each on the scale and re-wound until there were 5 grams left on the skein and then cut. Not super scientific or accurate...lol...but I think it will work out just fine.  This way,  the sleeves will match. 
However, I have noticed that with the slow decrease in the sleeve stitches, the bigger each color stripe is.  As you can tell in the main photo, the solid purple on my sleeve is much larger than the other sections.  This could be because the purple was slightly larger than 5 grams and because of the stitch decrease.  I'd like to have lots of sleeve stripes, so going forward, I will use less of each mini skein. 
Turns out I will have more than enough yarn to make the entire classic sweater in size small with all of the minis and will not have to supplement anymore than I have (only the neckline). 
I've decided to start a scrap yarn blanket.  Any amount of left over minis will be used towards the blanket.  Of course, I will totally blog about the blanket when I start!
No doubt I'll have the sweater completed in the next few days.  The next blog post will be the finished sweater with lots of action shots!
-happy crafting!
Brianne