Interview Series: Yumi Rumi Knits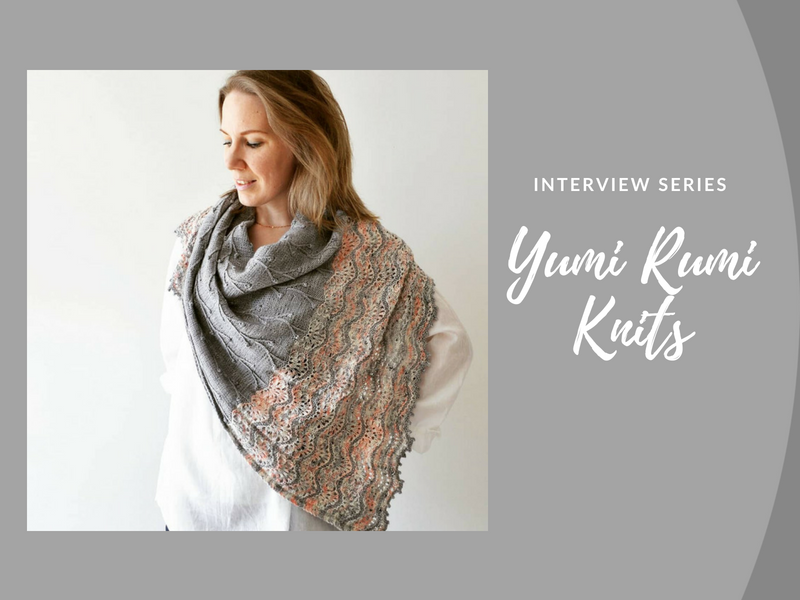 We have Inese of Yumi Rumi Knits here today.  She designs seriously beautiful patterns.  I especially adore her shawls.  I had the pleasuring of knitting the Sunshowers Shawl recently as a shop sample for Cheryl.  It was extremely difficult to mail that beauty away!
Q: Welcome Inese! Please tell us, why did you start knitting and how did you learn?
A: I learned knitting when I was about 9 or 10 years old from the best and most inspiring teacher in the world – my mom. Watching her effortlessly finishing sweater after a sweater, made me want to pick up needles and try it out myself. But my first wearable FOs were knitted around the same age for our home ec classes – a pair of mittens, a pair of socks and a garment. Also, growing up in Latvia, where knitting has such a rich and diverse tradition and is a large part of our culture, it was just a matter of time for me to realize what an amazing craft it is.
However with the studies and work, I left knitting behind and returned to it only after the birth of my son as the means to fill the creative void I suddenly found myself in for the first time in my life. I am not exaggerating when I say it kept me sane, composed and calm through the first years of parenthood.
Q: I love your story!  It warms the heart! Do you have a favorite type of project or design element?
A: I've always been drawn to the cables and the element of flow in the patterns which a cabled texture provides. I don't think I have a favourite type of project, but, as a person who likes to keep warm and bundled up, I do have a special affection to neckwear – scarves and shawls.
Q: Humm...cozy! Do you have a favorite yarn weight? What types of colorways are you drawn to?
A: I adore fingering/sock weight and worsted weight yarns. The former allows for light garments with more complex or large pattern repeats without compromising the size or texture, and the latter is my go-to weight for everything warm and with cables.
Q:  Speaking of fingering and worsted.  How many skeins do you have? Are you a yarn hoarder or do you only buy with specific patterns in mind?
A: I am not a big fan of having lots of things around me in general. The less I have, the easier I breathe. I find that having a space crowded with items is suffocating and pressing . And that extends to my yarn stash, as well. While I have so many yarns that catch my attention, I know if I keep buying, I will end up with a lot of yarn and a panic that I have no time to work with all of them within a reasonable time frame. So I prefer to have just a few yarns I have already plans for.
Q: I admire your self control! Do you have a favorite FO? What makes it so special?
A: Great question! Actually it just extends the theme from the previous question about reducing the visual noise around me. I also prefer a minimal and light closet space, so picking a project to work on for myself, I spend quite some time thinking and analyzing its potential frequency of use and pairing with other elements in my wardrobe. I just recently finally decided to knit Jennifer Steingrass's Treysta sweater. It's far from finished, though. It will be my first top down sweater in my favourite colours, so yeah, pretty special to me. 
Q: Your knitting is always gorgeous.  I can't wait to see the finished project! What do you like most about knitting?
A: I am definitely a product knitter. I do enjoy the process immensely, and the feeling of a beautiful yarn in my hands, but I wouldn't knit just for knitting's sake. I like to see the idea or a project coming to life.
Q: I agree 100%! What patterns are on your short list to make in 2018?
A: Not including Treysta sweater, I still hope to cast on for Mehan Nodecker's Main Street and Irene Lin's Hana Jumper.
Q: Do you go to an in person or online knitting group?
A: I am not really a social knitter – on or offline.
Q: Do you have a favorite LYS or two? Tell us about them.
A: I do love 88 Stitches. What makes a place, any place really, is the people, and this LYS is a place where you go in and don't want to leave. I'm not the most chatty person, but the wonderful ladies there can make anyone welcome and comfortable. If there is a store with genuinely nice staff and laid back vibe, it's definitely 88 Stitches.
Q: Do you have a favorite knitting resource, link, video or any a tip / trick you can share?
A: I just recently bought the new edition of The Ultimate Knitting Book by Vogue Knitting and find it very useful and informative. However, for many years my most trusted knitting resource was and still is my mom.
Q: Do you crochet, weave, spin, or sew? What other crafts / hobbies to you enjoy when you're not knitting?
A: I do know how to crochet, but my interest in this craft really never extended past the cute amigurumi animals or flowers. I also know how to sew and have a few fabrics lined up in hopes to finally turn them in wearable garments. I also wish I knew how to make more time for my love of drawing and reading.
Quick Fire questions:
Q: Which Hogwarts house do you belong to?
A: What's Hogwarts? Ok, I admit, I googled it and yup, not a Harry Potter fan here, haha.
Q: What color is your toothbrush?
A: White
Q: If you could be any animal what would it be?
A: A shark or a bee (not exactly an animal, do they count?)
Q: Who is your favorite super hero?
A: None
Q: Do you knit in public?
A: No
Q: Favorite snack food?
A: Dried seaweed
Q: Are you a morning or a night person?
A: Morning person
Q: Where would you go if you were invisible?
A: Straight into Amazon Rainforests and then to Arctic Circle
Tell us a little about yourself:
All of my designs are derived from my own personal experiences along with the emotions and inspiration linked to them. So the designs I knit all feel very personal to me as they touch upon a place, a memory or a sentiment that's very close to my heart. Undeniably,  nature is a very strong inspirational force for me.
However, at the same time I don't want to over-romanticize nature's impact on my designs. I am very much attracted to nature as I am to the urban settings and the busy city dynamics, colours and textures. But no matter where I draw my inspiration from, I always try to find the little details that make a certain landscape or cityscape special to me. You could maybe say, I'm not the big picture person, or rather – I believe that big picture is made up of a million tiny things, and I'm always very curious to explore what they are.
             You can find me on Instagram @yumirumiknits and
             Ravelry:   https://www.ravelry.com/designers/inese-sang
Thank you Inese!  Your designs are lovely and we look forward to what you have in the works!