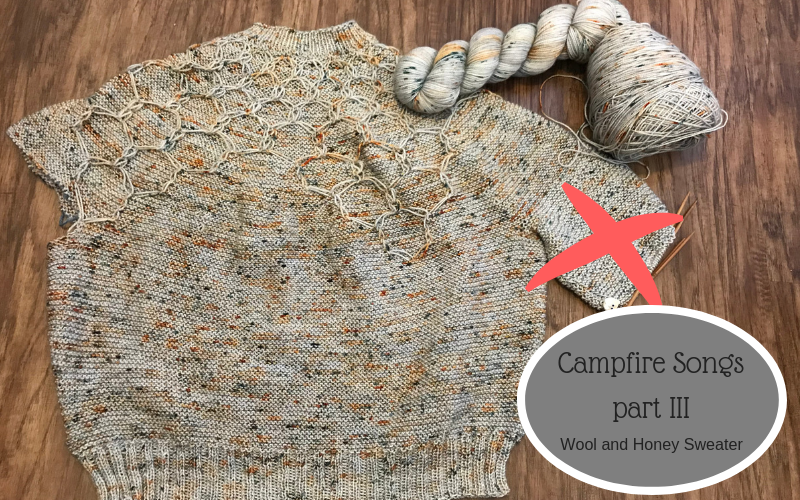 First.....
Don't forget, tomorrow, FRIDAY, is the LAST day to pre-order your advent calendar!  See the website for all the details on this beautiful kit! It will include 24 mini skeins tucked beautifully into a numbered pocketed advent calendar for you to hang on the wall this holiday season.  There is also an option to add a full sized skein to open on Christmas morning! 
Sweater update:
If you watched last week's Mystery Yarn Club reveal video, you will have heard the reason of my lack of progress on my sweater.  I have completed the body of the sweater, which is the cropped version.  I picked up stitches to knit the first sleeve using double point needles.  I typically don't mind using DPNs, in fact, I rather enjoy using them!  Maybe I was having a bad day, but they were NOT working out for me.  Not even a little bit.  I did not know how to do the Magic Loop method but was absolutely dedicated to learning. 
I got a bit distracted last week with these really really amazing surprises I have coming for the favorite people in my life, YALL, and didn't have time to watch a YouTube video on magic loop.  Last Tuesday, my husband informed me that we were invited to a 1 year old's birthday part on Saturday.  I sewed the little girl a dress, bloomers, and cardigan-you can see these in the video link above! That took up some time last week.  Saturday, we drove 45 minutes to the party to be informed the party was actually on Sunday and my husband didn't read his text messages correctly.  Luckily, there is an outlet mall there and I did some shopping.  I am so excited that cigarette pants are in style these days and found several pairs to fill that hole in my wardrobe. 
So 24 hours later on Sunday, we drive the 45 minutes again to the party, which was at the most beautiful vineyard I've ever seen in the United States.  It was absolutely stunning!  I should have taken a photo.  *doh!*
Monday afternoon (two days ago, today is Wednesday), I watched a 3 minute 45 second YouTube video on Magic Loop and was an insta-pro!  What an easy method, I'm not sure why I've put it off to long.  I moved the stitches off my DPNs to my long circs and started knitting.  I thought it was all hunky dory and I'd speed through the sleeve faster than a Nascar driver. BUT all 4 wheels fell off the car.  I had the ugliest and biggest ladders on the two corners.  I tried to knit them tighter.  nope.  I even moved where the sleeve was split in half after each round.  NOPE.  I don't think learning a new technique on while knitting my beautiful sweater was a good idea.  Hindsight is 20/20!  LOL So, I popped those stitches back on my DPN and knit all evening.  The pattern has you knit in garter stitch for a certain length, then change needle sizes and knit ribbing a significant distance to finish the cropped sleeves.  Last night I knit until it was time to change to ribbing.  Today I looked at my sleeve progress to realize my tension is TOTALLY DIFFERENT with DPNs than the body of my sweater that was knit with circs.  It looks ugly *sob sob sob*.
A lovely watcher of the reveal video (and also Cheryl) suggested I try 16" circs for the sleeves. (Thank you for the suggestion!)  I did look into this, but my sleeves are about 12".  I wish that would have worked!  So what did I do? I hopped over to Ebay and purchased a set of 9" circulars in sizes US 0-5!  I AM SO EXCITED! They should be here on the 27th.  I will frog my sleeve and start over with the tiny circs.  I love knitting socks with 9" circs so I know this be awesome!
In the meantime, I'll be working on the next Hypnotic Yarn pattern that will be headed to testing very soon.  Keep an eye out for that tester call!  Here is a sneak peak of mine!
See ya next time!  (Hopefully my sweater will be done by then!)
-xoxo, Brianne