Interview Series: Happee Knits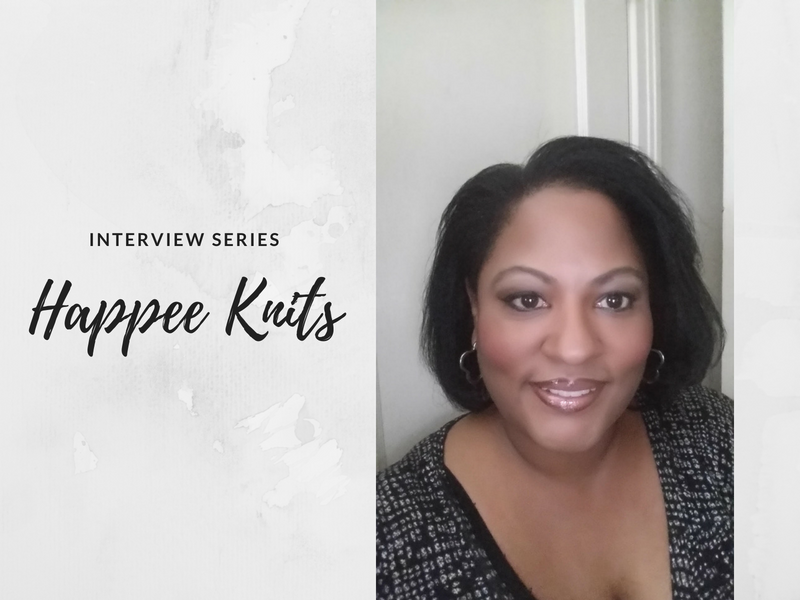 I am HAPPEE to introduce Yolanda of Happee Knits!  She has a fantastic and high quality podcast.  You can feel her friendliness through the videos and she always has beautiful makeup on and the perfect lip color.  (I"ll need you to share that product with me, Yolanda!).
Plus, she's from the greater Dallas area!  I'm from Texas and my mother in law lives in McKinney, so I feel like she and I are already best friends. 
 Let's hear what she has to say about knitting.
Q: Why did you start knitting and how did you learn?
A: I first learned how to knit when I was 18 years old.  My first job was at Michael's and I picked up a book and taught myself, basically, but because I was young, I didn't stick with.  Fast forward many years and I decided I want to learn again and this time it stuck. 
Q: Do you have a favorite type of project or design element?
A: I have fallen in love with sock knitting.  I feel like everyone wears socks and they feel so good.  I am really into plain vanilla socks.
Q: I agree, plain vanilla socks are satisfying.  I'm sure we can guess, but do you have a favorite yarn weight?  What types of colorways are you drawn to?

A: I am in love with fingering weight yarn because I am a sock knitter. I love vibrant colors. I am drawn to anything that screams fun.  I am not a fan of darker colors.  They don't brighten my mood.
Q: With hardcore knitters, this always seems like a silly question, but I'm going to ask anyway. Are you a yarn hoarder or do you only buy with specific patterns in mind?
A: I would consider myself a hoarder.  I buy yarn with no specific project in mind. If a color speaks to me, then I buy.
Q: Do you have a favorite FO?  What makes it so special?
A: My favorite FO is a sweater that I knit for my baby. I believe she was one at the time.  The pattern really was the first article of clothing that I knit.  I knew she would get good wear out of a sweater.  It was the
Q: What do you like most about knitting?
A: I love the finished product.  I love the sense of accomplishment it gives me to know I created something.  Also its peaceful.  After a stressful day, a good pair of vanilla socks centers me.
Q: You answer is very Zen-ful! What patterns are on your short list for 2018?
Q: OMGee!  I favorite-ed the Little Sock Arms pattern.  I need that in Me-Size. Do you go to an in person or online knitting group?
A: No.  I am self taught.
Q: Do you have a favorite LYS or two?

A: I actually do a lot of my shopping online.  I live in Dallas, TX and our yarn shops are few and far between.  I sometimes find yarn stores to be a little standoffish and clickish.  I know they are all not like that, but I have experienced that feeling before. There is one in Ft. Worth that I have been meaning to go to.  I hear it's very nice.  Its West 7th Wool.
Q: Do you have a favorite knitting resource, link, video or any a tip / trick you can share?
A: My most popular video on my YouTube is how to knit two at a time with the fleegle heel.  I have had quite a few viewers who have told me that video taught them how to knit socks.
Q: I, sadly, have not conquered knitting two at a time.  This is a golden video, thank you! Do you crochet, weave, spin, or sew? What other crafts / hobbies to you enjoy when you're not knitting?
A: I have recently taken up sewing and I currently make project bags and also I am learning how to quilt. 
Quick Fire Questions:
Q: Which Hogwarts house do you belong to?
A: I have never watch Harry Potter....I know..I am the only one in the world.. It is on my to do list.
GASP! Girl, you need to get Harry on audiobook, stat!
Q: Go-to sock pattern?
A: Plain vanilla with fleegle heel.
Q: What color is your toothbrush?
A: White
Q: If you could be any animal what would it be?
A: Dog
Q:  Who is your favorite super hero?
A: Black Panther
Q: Do you knit in public?
A: Yes
Q: Favorite snack food?
A: Chips
Q: Are you a morning or a night person?
A: Night!
Q: Where would you go if you were invisible?
A: Heaven.
Q: Do you block your socks?
A: Sometimes.
Tell us a little about yourself:
My name is Yolanda Mims. I grew up in East Texas and moved to the suburbs of Dallas after I graduated college. I am one half of the hosts of the Happee Knitting Podcast.  My 13 year old son co-hosts with me. I am Happee Knits on YouTube, ravelry, Facebook and Twitter.  My website is www.happeeknits.com.  My website has been neglected.  I am hoping to give it a facelift this year. I don't have any pets.  My 4 year old daughter keeps me very busy. I am the only person in my family that knits.  That's a bummer.  I hope to one day pass this wonderful craft down to my daughter. I recently started another channel on YouTube called Happee Life.  It gives more insight into my personal life.  Right now I am concentrating on getting healthy and focusing on a weight loss journey.  I am an amateur gardener and love growing my own vegetables.
I have quite a few hypnotic yarns, but they are sitting in my stash looking pretty!
Thank you, Yolanda! It was a pleasure to have you join us today.  And seriously, please comment with your lovely lip color!