Featured Maker: ChannyPeasCorner
In December 2021, Yarnable subscribers got to enjoy a wonderful Sip & Stitch enamel pin inside their beverage-themed box. That pin was designed by the talented Channy Nesmith of CHANNYPEASCORNER, our first maker in this new series.
I asked Channy to tell us all about her business, from what got her started to the inspiration behind her creations, and what the future holds for her company.
Her story is incredibly inspiring.
In her own words:
I have always been crafty and even owned a scrapbook store, so I've always sold handmade items…
I started Channypeascorner, LLC in 2019, the year after my mom passed away.
She was diagnosed with cancer in September so as a way to make her happy, I started crocheting and knitting again. I hadn't done it since she taught me as a young teen. So I picked it up very quickly, but she passed away a month later without seeing the blanket I made for her. I crocheted about 16 cowls for my family as a way of grieving.
Fast forward a few months later, I saw an instagram challenge called "The Fiberuary Challenge." Each month there is a different prompt; one asked "favorite enamel pin." I was new to the yarn community and I didn't have one, so I tried to buy one on Etsy that said Queen of Yarn.
There wasn't one!
So I created one after months of research. I learned the ins and outs of enamel pin design and manufacturers, started designing my own, and formed an LLC. Now almost 3 years later I have over 60 designs!!
My designs are super cute, colorful and fiber focused, and are my original designs that I think up at 3am most every night.
My most popular pins have been Yarn Chicken, Smores, Sip & Stitch, Yarn Juice and all of my Queen of Yarn hearts.
I personally love them all, even if some don't do too well but my favorite has to be Yarn Diet...is a fridge full of yarn!

CHANNYPEASCORNER Upcoming Events and Shop Specials!
Channypeascorner, LLC is now hosting retreats... Her second one is this Spring in Greensboro, NC and it's sold out. Eventually she's hoping do two a year, so stay tuned for news on that!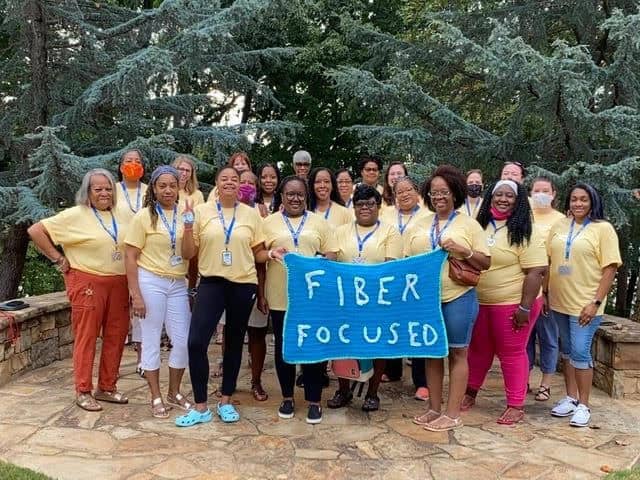 ​
Be sure to check out Channy's popular enamel pin club. Subscribers get a new pin (and free sticker!) delivered to their door every month. You can learn more by CLICKING HERE. ​
Plus a very special Mother's Day box will be releasing in May, so make sure you're following Channy on Instagram to see when it becomes available.
Channy also offers a Punch Card Program for Local yarn shops to get a great wholesale rate each month, so if you're an LYS, definitely reach out to her about that!
I hope you loved learning all about Channy as much as I did, and will show her some love by visiting her shop and giving her a follow on Instagram. Links to where you can support Channy online are below:
Website: CHANNYPEASCORNER ​
Instagram: @channypeascorner​