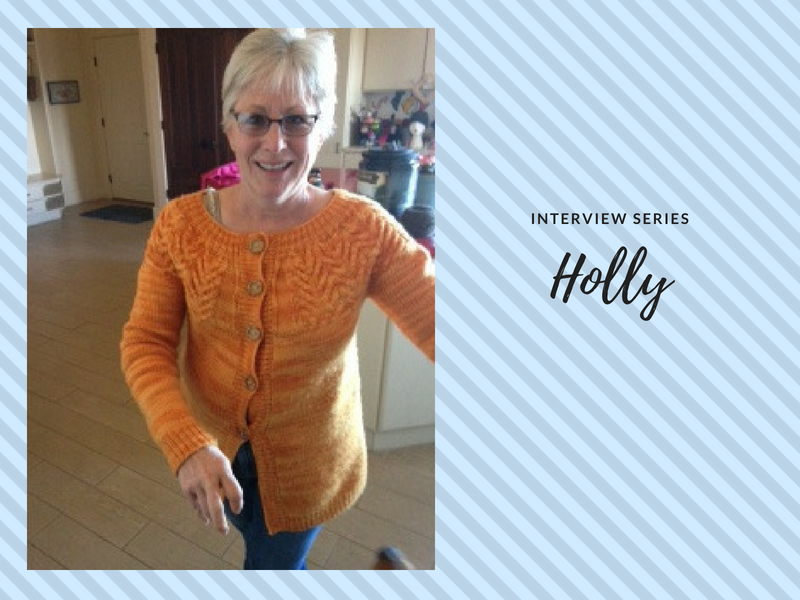 Hey Hypno-Readers!  We hope you are enjoying our Knitter Interview Series.  Up next, we have Holly.  She is an exquisite knitter and we are happy to have her with us today. 
Q: Howdy Holly! Why did you start knitting and how did you learn?
A: Before I was a knitter I was a cross stitcher.  I always crafted as a kid and found cross stitch while pregnant with my 1st.  I wanted to knit after a while, as my mom informed me if I stitched her one more picture she had to pay $200 to frame she would strangle me!  Also, my eyes were getting tired of tiny fabric.  I was determined to knit my granddaughter, who is now 16, a baby something.  I took a lesson in Rockford, IL, learned on the wonky first scarf and away I went.  I didn't know any boundaries.  I found a picture of a sweater with a cat on the front with a fuzzy chenille tail going around the back; it was colorwork!  I didn't know it was hard but I was determined to finish it!  I did and the baby had a ginormous head and it didn't fit!  I went to socks and found a cabled pattern for my niece!  I didn't know they were hard either and I did them, too!  I never looked back or stopped knitting and my granddaughter turns 17 next month. 
Q: I love your determination!  Don't ever give up! Do you have a favorite type of project or design element? 
A: Not really, I don't know what draws me to knit what I knit.  Many times it is something I see or hear about on a podcast; sometimes it's the yarn. I have an almost 4 year old grandson who I am raising and his interests sometimes will drive me.  I just finished knitting him a red cardigan because he loves to watch Daniel Tiger!
Q: I'm sure he loves his cardigan! Do you have a favorite yarn weight? What types of colorways are you drawn to? 
A: I love fingering weight the most and I am drawn to all colors.  I do think I'm attracted to yarns that are seasonal, by the end of winter I'm definitely ready for some spring colorways, love the deep colors of fall.
Q: I'd love to see your seasonal closet! Are you a yarn hoarder or do you only buy with specific patterns in mind?
A: Don't I wish I only bought when I needed yarn for a pattern!  I don't have a huge stash but I definitely could knit for a couple of years and not use it all. 

Q: Do you have a favorite FO? What makes it so special?
A: Not really, I have a few sweaters that I knit from my own wool from my own sheep that I also spun the yarn on. Usually, my favorite is the item I've just finished.  I love learning new techniques!
Q: Wool from your own sheep?!  That makes me smile. What do you like most about knitting?
A: Ha, good question!  I am 90% certain I have adult ADHD!  I can't be still at all!  I walk my golden retriever, Maggie, 4 miles daily.  She is off leash as we live in the country. She is perfect and stays with me; so I knit plain vanilla socks while I walk! I love that knitting keeps my mind from wandering to the next thing I can or should do.  I also love the finished product!  I love the coziness of knitting with a fire. I love the calmness of knitting first thing in the AM with coffee and podcasts.  I love everything about knitting!
Q: Wow! I can feel your passion through your words! What patterns are on your short list to make in 2018?  
A: This changes constantly.  I am doing the sock society with Helen Stewart- so socks.  I am doing a knit along with the Suburban Stitcher and Prairie Girl Susie, which will also be socks.  I've got yarn for the Veronica cardigan.  I have a few shawls in mind, and I want to do a fingering weight sweater for myself.  I took a colorwork class over the winter and I'd love to knit a colorwork sweater for myself.  I'm trying to be better about gift knitting and am working on some as well.  My grandson has asked for another sweater;  he is very knit-worthy.  I usually have about 4 or 5 active wips at a time.  My sister in law lives in WA and just sent me some lovely local to her yarn for a hooded shawlish cowl.  The list is never ending! 
Q: You will be busy for years to come! Do you go to an in person or online knitting group? 
A: No, sadly no.  I live in rural MO on 100 acres in the middle of nowhere.  I have no close knitting friends. I have met a few people but they don't share my passion and devotion to yarn!
Q: Do you have a favorite LYS or two? Tell us about them. 
A: I have three yarn stores within an hour and fifteen minutes from me.  Two are adequate and one is spectacular.   It is called One City Market and is in Rogersville, Mo.  It is an old house and the owner, Lisa, has each room filled with the most lovely yarns and vintage decorations.
Q: That sounds dreamy. Do you have a favorite knitting resource, link, video or any a tip / trick you can share? 
A: I am an avid podcast watcher/listener and learn much from each of them, and podcasters are great enablers.  I can't think of a tip to share, but living so remotely I definitely rely on YouTube for techniques I need help with.
Q: Do you crochet, weave, spin, or sew? What other crafts / hobbies to you enjoy when you're not knitting?
A: I have a  spinning wheel and can spin, but I don't.  When we moved to our farm we had a spinners flock of sheep and I loved every minute of it, but it is a lot of work.  My husband had a really horrible auto accident and we had to quit the sheep dream.  I actually prefer to just buy yarn!  I absolutely love to cook.  I have a huge 37 raised bed vegetable garden, more flower beds than I can handle and we have bees.  I love to can from my garden, and am working on candle making.  My perfect week is if I don't have to leave the farm.  I have referred to myself as a stay at home doggie mom, which is  great gig if you can get it.  I do have that almost 4 year old now that has put a cramp in a lot of my garden time, but he is a joy.
Q: Is there anything you wished I'd asked and didn't?
A: I have attended one of the Knitting Pipeline retreats and have another on my list for this year.  I do wish there were more retreats, festivals, in the Midwest, particular Missouri, where I could connect with other knitters. 
Quick Fire questions:
Q: Which Hogwarts house do you belong to?
A: Not a Harry Potter person
Q: Go-to sock pattern? 
A: Ribbing all the way down, but vanilla is also good.
Q: What color is your toothbrush?
A: Pink
Q: If you could be any animal what would it be? 
A: Any doggie that I have owned; they lead a perfect life!
Q: Who is your favorite super hero? 
A: Wonder Woman
Q: Do you knit in public? 
A: Always, and everywhere
Q: Favorite snack food?
A: Popcorn
Q: Are you a morning or a night person?
A: Morning
Q: Where would you go if you were invisible? 
A: To the Prince and Princess estate, I am fascinated by the young royals
Q: Do you block your socks?
A: Yes, and I iron , a lot, who doesn't love freshly ironed pillow cases sprinkled with lavender, or anything ironed!
Tell us about yourself!
I've been married for 38 years in October.   I do all the maintenance of our home so that when the "king" gets home he can kick back, preferable with a cold adult beverage in hand.  We enjoy lots of porch sitting and knitting with a drink!  I have always been a dog person, at one time I had a three legged black lab mix, a golden retriever mix and a bull mastiff at the same time and they were inside dogs!  They are all in dog heaven now.   I currently have a six year old Golden Retriever named Maggie who doesn't know she's a dog.  She spends her entire day by my side. Ever try to vacuum with a dog following you? 
I'm holshome on Instagram and hollyathome on Ravelry.  I'm not a Facebook person.  I'm attaching a picture of myself taken in maybe January or February of this year. I'd just knit this Antler Cardigan by Tin Can Knits for myself, in a color way out of my comfort zone.  I had just finished letting my hair go natural and I need color around me now.  I'm a breast cancer survivor of 26 years, I had a mastectomy when I was 32 while training for my first marathon.  I'm originally from Missouri and it is where I live now, but for about 12 years we transferred every 3 years.  We didn't move back to the same part of Mo as we were originally from so I don't have a lot of friends in my area. 
I knit this shawl a month or so ago out of your carousel colorway in DK and the contrasting color was an Anzula luxury yarn.  The shawl is my current go to as it is super squishy and I love it.  I have a skein of Hypnotic Yarn in Leaf Peeping in my stash which I'm saving for the fall. 
I have three grandkids, a girl who is 16, her 10 year old brother, and an almost four year old boy.  My son and grandson live with us and my other son sadly passed away eight years ago.  The other two grands are his.  They are two hours from us and they spend lots of time with us.  Grands certainly change the things that are on my needles! 
 Thank you Holly!  Your heart shines through your words.  We appreciate you taking time to chat with us!