Pattern Release: Storm's A'Brewin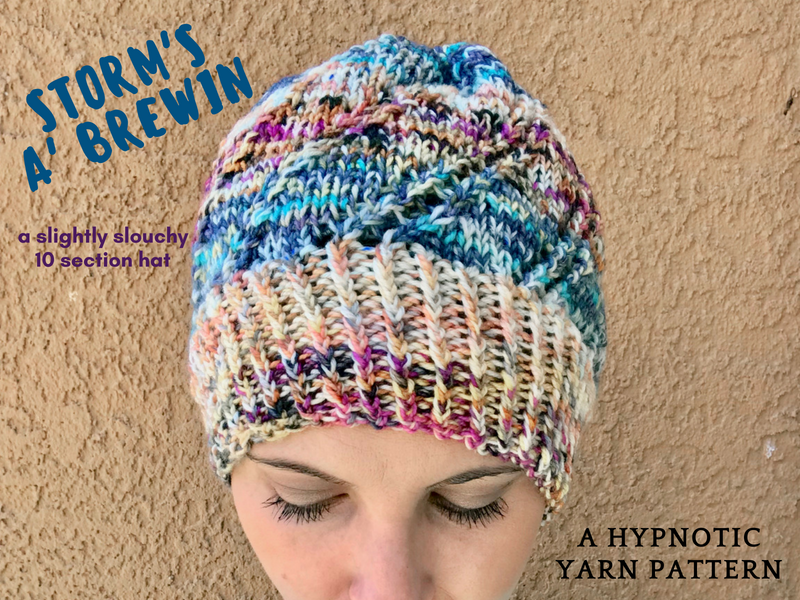 There has been a lot of pattern designing over at Hypnotic Yarn lately and we have many designs in the pipelines! 
Released today is the Storm's A' Brewin hat.  This hat is easy for beginners but has a huge design punch.  Storm's A'Brewin features twisted ribbing and 10 design spirals knitted with two strands of fingering weight yarn held together.
Details:
Yarn: Fingering Weight; approximately 80 grams/300 yards
Needles: US 7 DPN, 16" circulars, or long circs for magic loop
Gauge: 20 stitches and 28 rows = 4 inches in pattern stitch
Additional Materials: 1 stitch marker
Time: quick!  8-ish hours depending on how fast you knit (I'm slow!)
Size: unstretched and unblocked, the hat is approximately (flat measurements) 9" tall, 9" at ribbing, and 10" widest.  It will fit head circumferences between 20" to 22"
Cheryl used Dark and Stormy yarn and garnished with a big, fluffy black pom pom. The solid colorway really makes the yarn over spirals POP!
I was on vacation when Cheryl sent the pattern to me to pre-test.  The only yarn I took on my trip was 5 vastly different scrap yarns.  I had planned to make several pairs of scrappy socks.  Instead, I took the same idea and put it towards the hat. Since Storm's A' Brewin uses two strands held together, I picked two colorways that I thought would look good together and cast on. 
I started with Hypnotic Yarns Spooktacular and Wish Upon A Star.  I knitted 5-6 rounds and changed Spooktacular to Rose Petal Tea. Then knit 5-6 more rounds and changed Wish Upon a Star to Hatchling. Etc, etc, etc, you get the point.
Here are the 5 scrap yarns I had on vacation. It looks like a hodgepodge, right?!  Believe it or not, they all go together!
Here are the yarn combinations I used in order from ribbing to crown, knitting 5-6 rounds (on average) with each combo.
Spooktacular/Wish Upon A Star
Wish Upon A Star/Rose Petal Tea
Rose Petal Tea/Hatchling
Hatchling/Knit Picks (blue/purple)
Knit Picks/ Wish Upon A Star
Wish Upon a Star/Spooktacular
Spooktacular/Rose Petal Tea
Rose Petal Tea/Hatchling
Hatchling/Knit Picks
Knit Picks/Wish Upon A Star
Wish Upon A Star/Rose Petal Tea
Doesn't it look freakin' amazing?!  I am head over heels in love with this scrappy hat!  It has every single color possible which means it will match everything in my closet.   I did something crazy a few days ago, I buzzed my hair all off.  It sounds scary, but I actually really really love it (think Natalie Portman in V for Vendetta).  However, a side effect of having a zero maintenance hair-do is that my head is pretty chilly all time time.  Meaning....I'll be wearing this cozy hat all the time now.  Shucks, what a shame! *wink wink*
Several of the yarns I used are either out of stock or retired colorways.  However, it shows you just need to open that truck of yarn scraps, the more the merrier, and get knitting!
What do you think of my scrappy hat?
Happy Knitting,
Brianne