Interview Series: Cheryl aka The Yarn Boss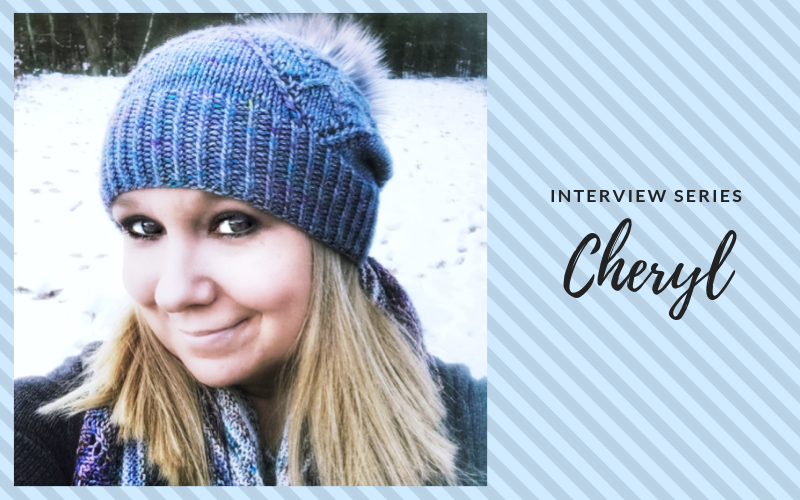 Today is our last Interview Series blog post and we have Cheryl, the Yarn Boss, with us!  Today is also Cheryl's birthday.  Please leave a blog comment with birthday wishes for her!
I 'met' Cheryl earlier this year and it was insta-friendship.  She is a generous, hilarious, and an amazing color expert.  It has been so much fun working with her this year and I'm happy to call her MY yarn boss!
Thanks for doing this interview Cheryl! After reading your interview with Ann Tudor, we know some of your crafty background. Hopefully these questions will have a slightly different spin so we can learn more about the mad genius behind Hypnotic Yarn.
 Q: I know your dogs are Hypnotic Yarn's OGs. Could you please tell us about them?
A: Of course, I love talking about my fur babies! I get a lot of questions about their coloring. Simon and Piper are both 2 year, merle chihuahuas - Simon is a black and tan merle and Piper is a chocolate merle with white markings. As one customer put it: 'Even your dogs are speckled!"
 Simon is happiest when being snuggled, so I actually have a kangaroo pouch that is worn cross-body that he loves to hang out in and be carried around everywhere I go. LOL! He loves car rides and going for walks outside.
 Piper is my little 4 lb fire cracker. She's fearless and loves play all day long, and has yet to meet a squeaky toy she doesn't like, err, want to kill…
 And I know chihuahuas have a reputation for being kinda mean but these two are just as sweet as can be, and as long as Chihuahuas are well socialized as pups, they make wonderful, loving pets.
Q: What sweet puppy dogs! What does your family think about your yarn habits and knitting?
A: Let's see, I started knitting maybe about five years ago. By that time, my daughter (who just turned 25) had already left the nest. I will say that she's quite knitworthy and has already claimed some things for Christmas this year.
My husband and son are very supportive of the business and have even been known to help me twist and label yarn from time to time. Plus they've put up with having yarn in literally every room in the house, include hanging to dry from the curtain rods in the kitchen before my studio existed. Unfortunately, they aren't the biggest fans of knitwear for themselves, but that just means more selfish knitting for me! #sorrynotsorry
Q: We will call it "self care" knitting. Does that sound better than selfish?  Who cares, selfish is just fine! Do you have local crafty friends to hang out with? Tell us about it!
A: For the longest time, I didn't have any local crafty friends at all. I lived vicariously through podcasts. But over the last year, I've reconnected with my friend Jess of @jessgasyarncafe - she's a crocheter and is the maker of all the faux fur pom poms that I use on my hats. I'm so lucky that she's local to me and we get to hang out twice a week. We're even thinking about starting up a local knitting group!
Q: Yes!  A knitting group would be awesome!  I think we are all really curious how messy dyeing yarn is. Could you describe the general process for us? Is it messy? Do you have color stains everywhere?
A: Ha! I have this project bag that says 'Being creative is messy, and I am VERY creative!" That about sums it up, really.
What a lot of people don't know about dyeing yarn is that involves lots of nearly boiling water and much heavy lifting. I also have a mask I wear that makes me look like the apocalypse is nigh. And then there's my Smurf gloves (they're blue) to try and keep my hands as dye free as possible. Hint: I usually fail at this. LOL. 
I actually took some video of my dyeing my Grinchmas colorway. You can watch that here if you'd like:
Q: That video is so interesting to watch!  Which is bigger: your FOs or yarn stash? Talk to me in numbers. Pictures help too.
A: My stash is actually not that big. In fact, I just cleared out (read gave away) about three bags of yarn and moved the rest to a small plastic bin - not very glamorous, I know. I give away many of my FO's to friends and family, but here are some pictures of a few recently completed projects.
Now, WIPS are a whole different story. I have at a ton of project bags filled with works in progress.
Q: Sounds like you need more project bags!  What are three go-to podcasts for you and why?
A: In no particular order:
Periscoping Sisters, because I just absolutely love the dynamic between Debby and Amy. I don't have any siblings so I think I may be a tad jealous.
Yarnhoader, because Amber is just the sweetest - I love hearing the stories she tells about her family and pets and how she packs every episode with so much useful information about yarn and knitting and the products she loves. And because her laugh makes me laugh and I LOVE that so much.
I also really enjoy the LegacyKnitz Podcast - the dynamic between Sue and Chelsea is so fun, and I always love to see what they're making. I especially like seeing out Chelsea plays with combining colors in her knits. It's fascinating!
Q: Thanks for the recommendations!  You re-started sewing in 2018. How would you compare sewing to knitting? What is your favorite item you've sewn so far?
A: Yes, I used to sew a bit when my daughter was young and I would make her Halloween costumes. I'm not the most detailed oriented person, though, so sewing can be a bit tricky for me. I think my favorite item I've sewn so far is the Laney Reversable Hobo bag that I made for my daughter. It turned out so well and I really enjoyed making it. It's a free pattern by Swoon Sewing Patterns .
Q: Yes!  I love bags and have a soft spot for Swoon Patterns!  What will be your first FO (sewing AND knitting) of 2019?
A: Oh my gosh. I don't know! I'm sad to say that I've been so busy lately that I haven't had a chance to knit much at all. I'd really like to knit a top down sweater with a colorwork yoke, but it'd need to be DK or Worsted weight and nothing too complicated. I'd love some suggestions, actually.
As for sewing, I'd love to try making some jackets for the puppies.
Q:   I definitely want to see puppy clothes!  Do you have any specific goals for 2019? (in regards to new crafts, future of HY, personal, etc)
A: I really want to learn how to spin yarn in 2019. It's something I've wanted to do for a very long time, and this coming year might just be the one.
As far as Hypnotic Yarn goes, I definitely have plans and I'm super excited about them for 2019. I'll be launching a line of birthday month colorways, and I have something fun planned to go along with them as well, so stay tuned for that.
Q:   AHHH!!! The suspense is killing me!  What kind of knitter are you? Do you have many WIPs or only 1 at a time? How does that match your personality?
A: I start and stop a lot of projects, and that matches my personality quite a bit. I can be the type to jump right into things without worrying about the 'what if's' but at the same time, that can leave a wake of abandoned dreams behind me, lol.
'abandoned dreams'...hahahahaha...I love that!
Fire Shots:
Q: What is your Patronus?
Mastiff
Q: Maverick or Goose?
Goose
Q: Chocolate or Vanilla or swirl?
Chocolate
Q: Favorite color?
Red
Q: Drink of Choice?
Coffee
Q: Favorite candle scent?
Buttercream
Q: Birthday dessert choice?
Marble Birthday Cake with frosting (side note, when I was pregnant with my son, I craved birthday cake all the time. So I'd go to the grocery store, buy a birthday cake, and have them write random names on the cakes!)
(OMG! You did NOT! hahahaha)
Q: Favorite flower?
Gerber Daisy
Q: Favorite yarn weight?
fingering
Q: DPN or Circulars?
I've never used DPNs LOL. Circs all the way, baby!
Tell us about yourself:
My husband Tim and I live in Southern NH with our sixteen-year-old son, Ty. I also have a 25 year old daughter, Lianna, who has flown the nest and is working as a middle school social studies teacher.
I love books and before I was dyeing yarn I spent a few years writing young adult fiction. It's still a dream of mine to have a traditionally published novel, and I'm hoping 2019 will be the year I start writing again. Some of my favorite authors are Patrick Rothfuss, Maggie Stiefvater, Laini Taylor, Brent Weeks, and Stephen King.
My journey to finding my creative path, first as a knitter and then with hand dyed yarn, all started with a pair of hand knit fingerless mitts that I bought for $7 at a craft fair. I fell in love with them and wanted to make more pairs on my own. That's when I decided to learn how to knit (on a giant pair of bent size 9 straight needles, mind you). Once I got the hang of things, I soon discovered knitting podcasts and found out about hand dyed yarn. In Jan 2017, I bought my first ten skeins of undyed yarn, a pan to dye them in, and 9 different colored dyes, and Hypnotic Yarn was born. The rest, as they say, is history!
You're amazing, Cheryl!  We all love you and your yarn and appreciate all of your hard work. I look forward to what 2019 will bring for Hypnotic Yarn!