Interview Series-Ann Tudor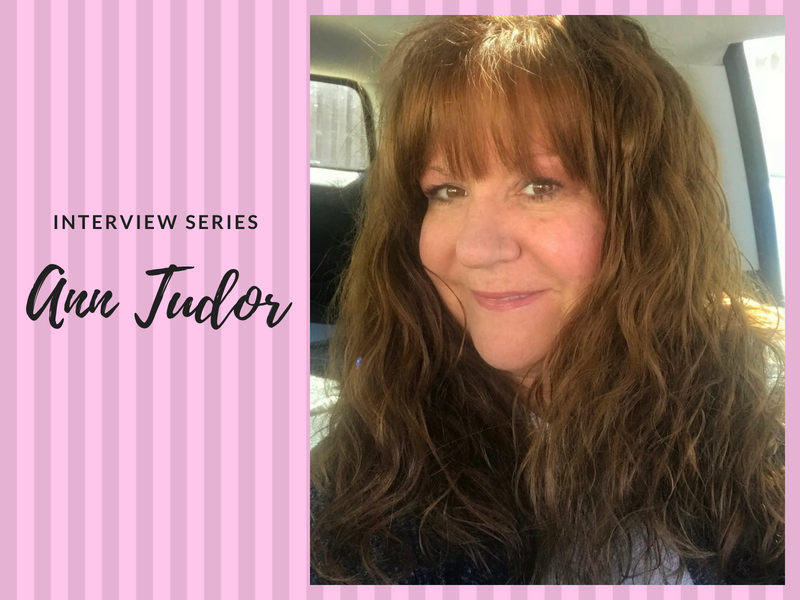 We are back with another interview!  Our special guest today is Ann Tudor. Ann makes the most wonderful glass stitch markers.  I own a set of kittie cat makers and they make me happy every time I knit to one!  She has more than cats, though!  She has sheep, pigs, foxes, raccoons, bugs, fruits, chickens, and much more!
 
Q:  Thanks for stopping by, Ann!  Why did you start knitting and how did you learn?
A: My mother was extremely talented. She did quilting, dressmaking, embroidery, painting, and my father, in his spare time, restored antique cars, so making and creating was just part of my world growing up. I did all the things but knitting until I started hanging around my then future mother in law. She taught me to knit about 28 years ago and I have not stopped since.
Q: You have a very crafty family! Do you have a favorite type of project or design element?
A: I have always loved cables but now I have caught the stranded color work bug. I have been bitten pretty hard with it.
Q: I adore color work.  It is beautiful! Do you have a favorite yarn weight? What types of colorways are you drawn to?
A: Majority of the yarn I am drawn to is fingering weight, though recently I have been purchasing DK. I do not like knitting with bulky weight, it is too cumbersome for me.
Q: So, exactly how much fingering weight do you have? Are you a yarn hoarder or do you only buy with specific patterns in mind?
A: Aw the stash! Well many moons ago I had a ginormous stash of yarn. When I first started knitting, there was not the indie dyers and yarn stores that there are today (man that makes me sound ancient!) so I relied on getting yarn from the big stores. I bought lots and lots of the "fun" yarns and made some crazy looking stuff - nothing I wore but I had fun making them. Several years ago, I let that stash go out into the world to people who would use it and have now curated yarns that I love and when they are knit, I will wear those items.
Q: Do you have a favorite FO? What makes it so special?
A: One of my favorite FOs is Find Your Fade Shawl by Andrea Mowry. It is gigantic but I love it and it is my go to all winter and fall. I also love the Arabella Shawl from Skeino. I have made several of these in different sizes and color combinations.
Q: Those are excellent patterns! What do you like most about knitting?
A: For me knitting is a way for me to relax and recharge my battery. When life is a bit much, the simple act of knitting is what keeps me grounded. There is always a simple project on the needles!
Q: I think that story sounds familiar for most of us! What patterns are on your short list to make in 2018?
A: Well my short list is more than I will ever be able to knit this year, but I am currently working on a test knit of a color work sweater by PiperNell. Once that is done, I will work on Virgil by Caitlin Hunter because I already have that cast on with just a few rows complete. After that, maybe the Campside Cardi by Alicia Plummer because I have my yarn for that all ready.
Q: You have excellent taste in patterns! Do you go to an in person or online knitting group?
A: I am crazy fortunate to belong to an in person knitting group. It started 2 years ago with 4 people and now there are over 40 that are involved. We meet weekly and sometimes there are a bunch of people, then other times only 10 or 12 of us. I also have a FB group called Marking Stitches where I want to start a Virtual Knit Night but am waiting until the fall to actually get that going.
Q: I joined your group!  Can't wait for the fall! Do you have a favorite LYS or two? Tell us about them.
A: My favorite LYS that I frequent quite a lot is Mass Ave Knit Shop in Indianapolis. It is a huge store with tons of goodies! Great owner who is extremely helpful and knowledgeable about all things knitting. Every once in a while I go there on Fridays and knit with her group of regulars. Outside of Indy, I loved visiting The Knot House in Frederick, MD as well as Yarn It and Haberdashery in Columbus, OH.
Q: Do you have a favorite knitting resource, link, video or any a tip / trick you can share?
A: A tip my mother in law taught me was that if you are knitting set-in sleeves, do them two at a time, so that they are shaped exactly the same and the same length, in case your tension changes.
Q: Excellent idea! Do you crochet, weave, spin, or sew? What other crafts / hobbies to you enjoy when you're not knitting?
A: I spend the majority of my time at the torch creating, so that fills my creative needs. Someday I may try my hand at designing because I have lots of ideas swirling around.
Quick Fire questions:
Q: Which Hogwarts house do you belong to?
A: Gryffindor
Q: Go-to sock pattern?
A: Plain Vanilla with Afterthought Heel
Q: What color is your toothbrush?
A: Pink
Q: If you could be any animal what would it be?
A: An Eagle
Q: Who is your favorite super hero?
A: Wonder Woman
Q: Do you knit in public?
A: Absolutely
Q: Favorite snack food?
A: Popcorn
Q: Are you a morning or a night person?
A: Morning
Q: Where would you go if you were invisible?
A: Carol Milne Studio - she is a glass artist that does cast glass knitted objects that are spectacular.
Q: Do you block your socks?
A: Nope
Tell us a little about yourself:
My family consists of a wonderfully supportive hubby of 26 years along with 2 grown children and 3 very spoiled puppies. I was in the dental field for 30 years then late 2013 I left to do jewelry full time but that quickly shifted to doing glass sculptural pieces using a torch and rods of colored glass. I did Art Fairs and had some things in shops & galleries for a couple years, then a friend asked me to make stitch markers and that was that! It is a dream to be able to combine my love for knitting and my glass work! You can find me online at www.anntudor.com and on Instagram and Facebook as Ann Tudor LLC along with a FB group called Marking Stitches which is a place to share your projects and chat with others. I have some gorgeous Hypnotic Yarn that I will be making something very special with soon!
Thank you kindly, Ann, for entertaining us today.  I love seeing all of your creations!