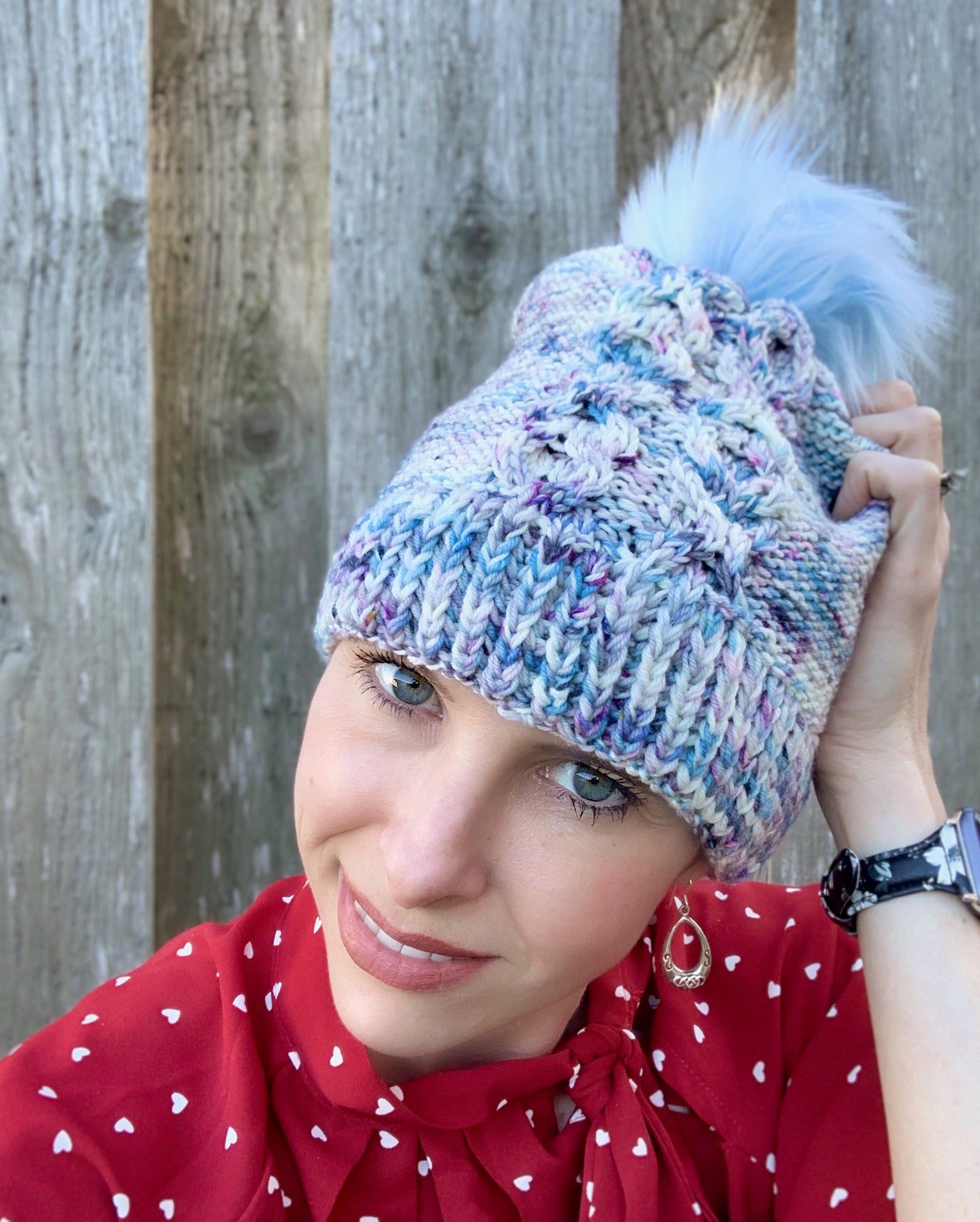 I don't share my finished projects here as much as I should.  Today I have THREE recent FOs for you to see and read about.
I used the January yARNaBLE skein to design a lovely cabled hat, Enamored.  I held my fingering weight skein double and fell in love with how the yarn worked up.  I gifted this hat to my sister in law for her birthday back in January.  I was so sad to let it leave my hands; I really wanted to keep it. Thus, I begged, cheated, and stole my way into two additional skeins of Sugarplum which leads to the second finished item.
I adore the classic style of a sweater vest (especially argyle) over a button up shirt.  I nabbed Unabridged by Alicia Plummer.  It's a sweater vest with a simple knit/purl texture design.  I decided against the design for no particular reason except I wanted a plain jane stockinette sweater vest.  I'm willing to fly by the seat of my pants with accessories, but not with any kind of sweater so I definitely did a gauge swatch.  Being a seamstress, I know what works well for my body type and what style I generally prefer in regards to how much ease I want in my garments.  I'm also pretty confident in shaping/adjusting my knit wear to fit my preferences. 
 

But I wavered for a while on which size to make.  Usually I would make a 34" bust but a sweater vest is worn over multiple layers of clothes (bra and a button up shirt). When you measure yourself, you need to do so while wearing what you would be in that circumstance.  For example, for a sweater, measure your bust while wearing the bra (and maybe a tank top) you would wear with the sweater.  For this sweater vest, I needed to measure myself while wearing a bra AND my button up shirt.  Most button up shirts are on the looser side and I don't want my vest to be so tight it squeezes the shirt down and wrinkles it all up.  However, I also prefer a fitted look.  Rock and a hard place!  Eventually I choose a 36" bust. To be on the safe side, I alternated my 2 skeins.  
This is a fast project.  The pattern knits in the round from the bottom until you get to the armscye.  At that point, you do the back right and left then hold those stitches at the shoulder seams.  Then do the front back and left and join at the shoulders.  Finally, finish the neckline and armscyes with a few rounds of ribbing.  No sleeves!  Fingering weight takes some time to knit but it's a nice cozy weight for chilly offices.

After January comes the February Sweet Confections yARNaBLE skein.   My knitting goal for 2020 is to learn brioche.  I also super love any thing with cats (my spirit animal) and I've been wanting to knit up a cat hat.  Dragon Hoard Yarn has a free beginner brioche cat hat pattern-two birds with one stone!  The pattern is simple brioche with no increases or decreases and gives instructions on how to do knit and purl brioche.  It is recommended to use 2 colors, but I decided to just use the February colorway.  The pattern also calls for fingering weight yarn, which  my skein was but to knit faster, I held it double and cast on 88 stitches.  The hat was very simple and fast and recommend it to all other cat lovers out there.  I had to promise to share the hat with my almost 8 year old!
Thanks for reading and happy yarn-ing!
-brianne