Wool and Honey Sweater part V: FINISHED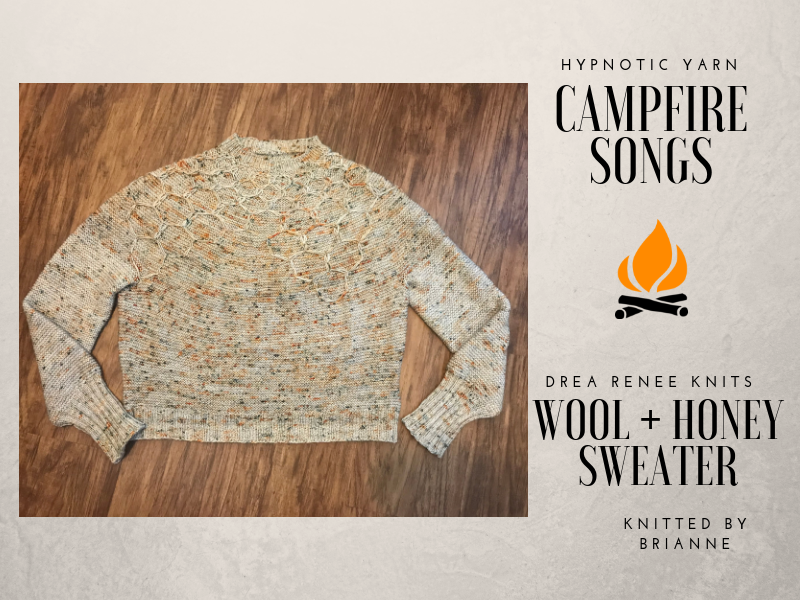 It's done!  It is finally done!  I started my Wool and Honey sweater using Campfire Songs on August 13th and finished October 11th.  My goal was one month to finish.  Obviously, that didn't happen, but two months isn't all that bad!  Plus, I set it aside a few times to work on other projects.  And most importantly, I beat Justina in our non-existent race to the finish. Just kidding!
Ok, details!
Yarn: 1390-2280 yards of fingering weight depending on the sweater size you are knitting.  I used Hypnotic Yarn's Campfire Songs on Treat Your Feet.  I ordered 4 skeins for a total of 1600 yards.  I used a smidgen into the 4th skein, so the estimate of 1390 for the size I knitted is pretty close to perfect! Picking my colorway was pretty easy.  I'm a fairly boring with my clothes and I prefer muted tones.  Campfire Songs is mostly grey with lovely speckles of black, orange, and green to make it interesting.  It's totally my style and I love that it will look good with jeans and black, khaki, or olive trousers if I need to fancy it up.
Needles: US 4 (3.5mm) for main body and US 3 (3.25mm) for ribbing.  Or size to obtain gauge.  I actually gauged for this project! *pat myself on the back*. My gauge seemed perfect, so I went forth.  I used 16" circulars for the collar, 24" circulars for the main body, and 9" circulars for the sleeves. I did increase my circular size to 40"ish when I was trying it on while knitting.
Size:  The sweater pattern offers sizes XS to 3XL (finished bust measurements 39-63" or 99-160cm).  It is recommended to have a 4-9" (10-23 cm) positive ease. It was hard to pick a size because I do not like overly boxy swallow you whole sweaters, but of course I did not want my sweater to be too small either. It took me a solid 20 minutes to weigh the pros and cons of XS or S.  I'll be real with you ladies-lets break it down.  XS finished bust circumference is 39" and S is 43" finished bust circumference.  My bust measurement wearing my usual daily bra (the one I would wear with the sweater) is 36". That's only 3" smaller than the XS but a whopping 7" difference to the small.  7" seemed like way too much for my personal preference but 3" for the XS isn't much wiggle room. In the notes section of the instruction book, Ms. Mowry recommends getting your favorite fitting sweater out the closet and measuring the bust then compare that to her finished measurements.  The RTW (ready to wear-it's a sewing term; do knitters use it too?) sweater I measured from my closet had a 3" positive ease.  The notes also suggested to take your measurement, add the amount of ease you want and pick the size that is closest to that number.  Well, if I went for 3" positive ease, that puts me perfectly at the XS.  Ultimately, that is what convinced me to cast on for the XS. Until I was able to try my sweater on, I was TERRIFIED it was too small! lol
My finished flat bust measurement is 19", that's approximately 38" circumference without stretching.  Per the pattern, XS finished bust circumference is 39".  Right on mark! BOOM!
Directions: The pattern instructions are quite clear and easy to follow.  There are written directions as well as charts for the two yoke sections. There is a 'notes' page before the knitting instructions that is very helpful, and probably necessary, to read before starting.  She provides fitting tips, cast on options, how to resolved wrapped stitches, and how to work with the elongated stitches. 
Thoughts and Changes: 
The collar: After completing the collar ribbing, you do a few short rows along the back neck for shaping purposes.  Because my sweater sits higher on my neck than maybe intended, the short rows collapse on itself while I wear it.  This may or may not have happened if I had chosen a larger size.  The next time I make this sweater (and I will make it again!) I will  only do 1/4 to 1/2 of the short rows.
The yoke: The instructions are so well written, I did not have any issues with the honeycomb design.  It is easy to get into a groove with the elongated stitches, dropped stitches, and increases.  Knitting the yoke was much faster than I anticipated!
The body: After completing the two yoke sections, you separate the sleeves from the body and then continue knitting the body.  My waist measurement is 27" and I'm a broken record....but I was scared of having a saggy, boxy mess, so I decreased a little bit along the waist and then increased before the hips.  Here are the notes I left myself:
"Starting at round 16 (after body/sleeve separation), decrease by 4 stitches every 8th round. Place markers at the two side seams and knit to 3 sts before marker,  decrease 1, k1, sm, k1, decrease 1, knit to 3 sts before marker, decrease 1, k1, sm, k1, decrease 1, k to bor.  Decreased on these round numbers: 16, 24, 32, 40, 44, 48, 52, 56, 62." haha....I did not keep up with the every 8th round and hopped, skipped, and jumped around.  I continued in knit 1 round, purl 1 round until round #74, where I did a 4 stitch increase along the side seams.  The body ribbing is approximately 2".  I tried on my sweater and when it was 2" shorter than where I wanted the finished length to be, I started the ribbing.  For me, that was at a total of 81 rounds. I also chose to knit it a bit shorter because I knew it would grow a during blocking.
The sleeves: For the sleeves, you simply knit in garter stitch.  The instructions give length suggestions for the sleeve body and the sleeve ribbing, which I ignored.  lol. I wanted full length sleeves and I have REALLY LONG ARMS.  Conor McGregor's got nothing on my wingspan.  The sleeves gave me the most drama.  If you remember from my other blog posts about the sweater, I tried DPNs and Magic Loop for the sleeves with disastrous results.  I did a lot of frogging for that.  Then I ordered 9" circulars and that was a miracle. I finished the first sleeve and it was WAY too short. The ribbing was ripped out again.  But all of this trial and error on sleeve #1 meant that sleeve #2 was easy as pie.  I like pie.  I knitted (garter stitch) 141 rounds for the sleeve body.  You will have a decrease round before going on to the sleeve ribbing. I decreased less than the XS called for so I ended up with the number of stitches as the size small for the sleeve ribbing. I did this because on my first go round of the ribbing, I felt the decrease for the XS was too tight for me. I ribbed for 45 rounds and bound off.
Blocking:
I was absolutely terrified out of my wits to block this sweater!  I ran a cool water bath, added a single pack of Eucalan (grapefruit scent), and lowered my prize into the bowl.  I didn't let it soak very long, maybe 5 minutes.  When I took it out, I gently squeezed as much water out as possible then laid it flat on my blocking area.  I manipulated the sweater exactly how I wanted, trying to keep as much of the initial integrity as possible.  I really only adjusted the neckline (to make it wider) and the body ribbing to be as wide as the rest of the body. It dried over the weekend. 

Conclusion:
My sweater is freakin' perfect!  I'm so in love with the yarn/pattern combo.  I'll be gushing about it for the rest of my life! Next in sweater making is So Faded, also by Drea Renee Knits using 4 different Hypnotic Yarn colorways.  But first, holiday knitting!
I can't take life too seriously. Here is a quattro-pack of jumping photos for your pleasure. It's okay to laugh yourself out of a seated position.
Thanks for stopping by and reading!
-Brianne