Interview Series: Remade by Hand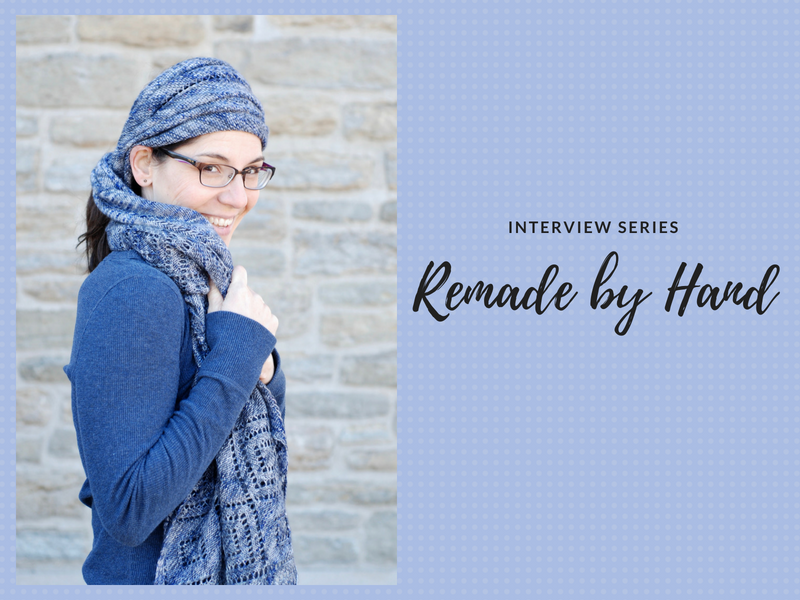 Howdy!  Please say 'hello' to Erin of Remade by Hand.  She has a beautiful website that includes a blog, lovely patterns, and a whole long list of amazing knitting resources. 

PSA-she has a new pattern releasing on July 13th-that's only 7 days away!  More details AND a coupon code at the end of the interview!
Q:  Thanks for coming by, Erin! Why did you start knitting and how did you learn?
A: I've always loved the pioneers and making things with my hands, so it's no surprise I ended up knitting. My mom can knit and my grandma taught me when I was a little kid. I think I made a lopsided scarf or two before setting knitting aside for other pursuits. I picked it up again in college, when everyone I knew got a scarf out of Lion Brand yarn. A few years later I tackled my first lace project, and I was hooked. I knit casually for a while, then went through a particularly rough patch when knitting often felt like the only thing keeping me sane and grounded. Since then, it has been my almost daily companion.
Q: I love hearing how knitting helped people! Do you have a favorite type of project or design element?
A: Definitely neck-wear: shawls, wraps, cowls. I have more of them than I can possibly wear. I prefer lace to cables, but a nice squishy garter stitch has its place, too. I am particularly drawn to the way lace motifs interact with the plainer stitches around them.
Q: You have beautiful designs! Do you have a favorite yarn weight? What types of colorways are you drawn to?
A: Fingering, for sure. I recently knit a hat out of DK, and it felt like working with chopsticks and rope! My go-to colorways tend to be tonals, often in purple, grey, teal, or deep red. Designing has pushed me to explore more variegated colorways, though, and that has been really fun.
Q:  Ha!  Chopsticks and rope! That's funny! Are you a yarn hoarder or do you only buy with specific patterns in mind?
A: My stash is actually pretty small and unimpressive! Most of it is yarn I bought years ago with no project in mind (before I learned that I really do better buying for a specific purpose) or leftovers from other projects. Well, plus whatever is waiting in the wings for an upcoming design!
Q: Speaking of designs, do you have a favorite FO? What makes it so special?

Q: Those are to die for! What do you like most about knitting?
A: It really is my sanity. I have a toddler at home, so some days it feels like knitting is the only thing that stays done! It can also be almost meditative. When I find myself having a particularly stressful day sitting down with a WIP and an audiobook can get me into a better mental space. I find the process of designing fulfills my need to be creative as well, and watching a sample emerge from an idea is extremely cool.
Q: What patterns are on your short list to make in 2018?
A: Whatever designs I release for the rest of the year! In my present circumstances, the knitting I do is overwhelmingly to keep up with my monthly pattern release schedule. I have collaborations planned with several indie dyers, which are my favorites.
Q: I can't wait to see what you release! Do you go to an in person or online knitting group?
A: I don't. It's not really feasible for me right now. Someday! Actually, almost no one in my life knits, so I'm kind of used to being a loner on that front.
Q: Do you have a favorite LYS or two? Tell us about them.
A: It's no longer my LYS, but Imagiknit in San Fransisco is amazing. Floor-to-ceiling cubbies stuffed with yarn, a staff that lets you browse undisturbed, and a bathroom in case you're there for hours!
Q: I will have to check them out! Do you have a favorite knitting resource, link, video or any a tip / trick you can share?
A: I came across this technique a while back for neatly closing the round after you bind off, and now I use it on every in-the-round project I make.
Q: Jaw-->floor.  That is a life changing technique!  Thank you for sharing! Do you crochet, weave, spin, or sew? What other crafts / hobbies to you enjoy when you're not knitting?
A: My other major crafty hobby is hand quilting, which has been back-burnered until my son is a little older. When I'm not crafting, I'm a huge book nut. Mostly audiobooks right now, but I love being surrounded by paper books and will happily spend a day at a used book sale!
Q: Is there anything you wished I'd asked and didn't? Tell us anyway!
A: I come across as fairly serious, but I actually have a silly streak and started #sillyknittingselfie on Instagram :)
Quick Fire questions: 
(I should note that I am TERRIBLE at anything with word limits.)
Q: Which Hogwarts house do you belong to?
A:
The only one I've never been sorted into is Slytherin.
A: I've only ever knit one pair. They were vanilla with self-striping yarn, and I still haven't worn them. I think I need to find the right shoes to wear with hand-knit socks. Then maybe I'd make more pairs.
Q: What color is your toothbrush?
Q: If you could be any animal what would it be?
A: Lying around in the sun all day and occasionally playing with yarn sounds pretty cool, so...a cat! I do also think it would be neat to experience what it's like to be a bird.
Q: Who is your favorite super hero?
A: I get made fun of for not knowing which ones are DC vs. Marvel! I honestly don't know enough about any of them to pick a favorite.
Q: Do you knit in public?
A: Sure! Most of my projects are larger, so I don't really knit in line at the grocery store, but I'm always knitting in waiting rooms and the like.
Q: Favorite snack food?
A: Chocolate chips and peanut butter. Or ice cream.
Q: Are you a morning or a night person?
A: Morning. Though sometimes I wish I could sleep in juuuust a little...
Q: Where would you go if you were invisible?
A: What an interesting question. I think I'd want to see some behind-the-scenes things: what's a professional orchestra rehearsal like? What's going on behind closed-door meetings between politicians? How does a really effective parent interact with her kids on a regular day?
Q: Do you block your socks?
A: I wear commercially made socks (see #2 above), so...nope :)
Tell us a little about yourself:

I grew up in Cincinnati, Ohio, moved around a lot, and eventually came to rest five minutes from my old high school. I live with my 2-year-old son and our somewhat elderly cat (who transforms into a gremlin around yarn, so I keep them apart!). Instagram is the only social media program I use with any regularity (@remadebyhand), and I'm remadebyhand on Ravelry. I have a budding blog where I interview indie dyers (like Hypnotic Yarn!). My first Hypnotic FO was a Christmasy Sockhead Slouch Hat using a custom colorway. My second was a design collaboration I was honored to do with Cheryl: the Concentra Cowl!
The Concentra Cowl releases next Friday, July 13th.  For our wonderful readers, Erin has a special coupon code for the pattern 'HYPNOTIC' will give you 25% off from 7/13 to 7/15.   Thank you Erin! It was our pleasure to chat with you today. We appreciate your time and look forward to your next pattern release next week!