Interview Series: Knot Your Average Knits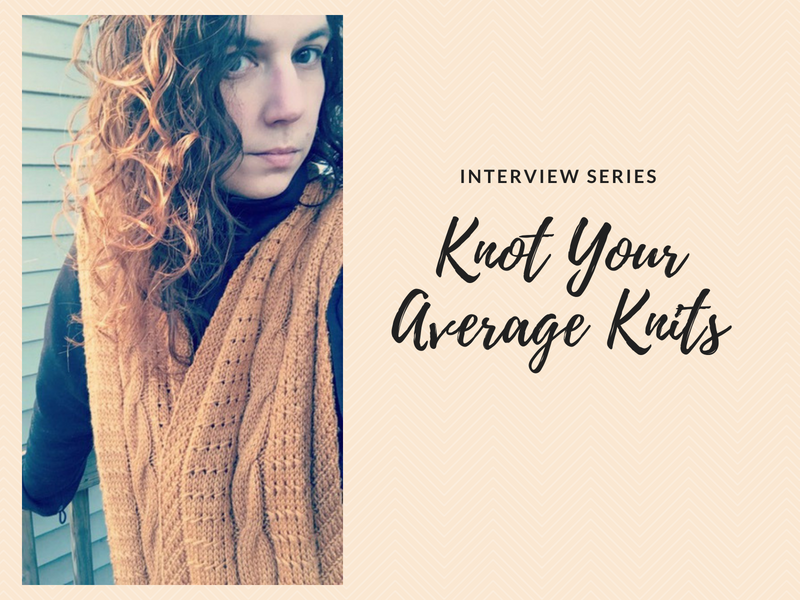 Welcome back, Hypno-blog readers!  Please welcome Kim of Knot Your Average Knits.  Not only does she knit, but she creates mouth watering woven items as well.  You can see a few of her woven scarves on Episode 27 of her YouTube podcast.
Cheryl had the pleasure of meeting Kim for coffee recently and she got to squish the Hatchling scarf in person. You've got to feel it to believe how soft it is. Think kitten napping on a cloud.  And Kim was so awesome to hang out and chat. Plus , she's graciously providing a coupon code to her shop.  Read to the end to get the code! Love our knitting peeps so much! 

Okay, ready for the interview?
Q: Welcome Kim!  Thanks for stopping by. Why did you start knitting and how did you learn?
A: No idea why really. I had learned to crochet when I was young so I was always interested in fiber crafts, but I don't really remember what made me want to learn to knit.  In the "pre-YouTube" era, I purchased the book "Teach Yourself Knitting: Visually". It's a great book and got me started!
Q: Thanks for the reference! Do you have a favorite type of project or design element?
 A: Mostly scarves, shawls, wraps, cowls… As far as design elements, definitely cables, and entrelac!!!
Q: Aren't you fancy! Do you have a favorite yarn weight? What types of colorways are you drawn to?
 A: Probably DK, not too heavy and projects go more quickly! Though my stash is predominantly fingering weight strangely enough. For colors, I like more muted and deep tones:  blues, greys, purples, neutrals.
Q: No color is a wrong color! Are you a yarn hoarder or do you only buy with specific patterns in mind?
 A: Hoarder for sure! But it has been great lately that when I find patterns I want to make, I can more easily 'shop my stash' for the yarn. This is maybe 3/4 of it!
 
Q: Do you allow other people to shop your stash?  (Asking for a friend - lol)  Do you have a favorite FO? What makes it so special?
 A: Miss Grace kit by Skeino! It was a "Dream knit" for so long and I was so proud when I finished my first one (and then did three more with way more to come!) It was also the first pattern where I ever did short rows.
Q: That is a lovely pattern and you chose perfect colors for it! What do you like most about knitting?
 A: I love the process and trying new techniques.  It feels good to be proud of the finished object. 
Q: Yes!  Couldn't agree more! What patterns are on your short list to make in 2018?
Q: Fun choices! Cheryl's been dreaming of an Exploration Station. Do you go to an in person or online knitting group?
 A: I have a small weekly knitting group at my home. It's made up of three of my former knitting students from when I used to teach knitting at a local Michael's store. I'm so glad we've continued to stay friends and get together every week.  It's awesome to get to see how much they have grown since first learning to knit. 
Q: How rewarding! Knitting friends are the very best.  Do you have a favorite LYS or two? Tell us about them.
A:

I mostly buy yarn online, but my closest LYS is Another Yarn in Burlington, MA.  It's a large store relative to other LYS's I've been to.  Great selection and frequent sales.  My first trip to Rhinebeck was last year on a bus trip with Another Yarn. WEBS (aka yarn.com) is only about 2 hours away from me, but I only go once a year during their annual tent sale.  My wallet couldn't handle me going any more often than that!
Q: Ha ha!  Do you have a favorite knitting resource, link, video or any a tip / trick you can share?
 A: Usually if I don't know how to do a technique I'll just Google it and find a description or video that makes sense for me.  The only real "trick" I've learned is doing a long tail cast on using two ends of a cake which eliminates the need to figure out how long to make your tail! It is super helpful when you're casting on 100+ stitches and run the risk of running out of yarn tail before the cast on is complete!
Q: Ooh, good one - I will definitely need to figure out how to do that too!  You mentioned that you crochet; are you into any other crafts?
 A: I learned to crochet when I was young and I will do the occasional crochet project if I need something quickly.  I bought my first loom (Schacht 15" Flip) about 6 months ago and I'm now obsessed with weaving! Hand dyed yarn looks SO different woven versus knit. And there are so many patterns and textures that you can create with just a little bit of patience. I hope to start selling/commissioning some woven items soon!  I really do wish I could knit and weave at the same time though because there are just SO many projects I want to make!!

Q:  I am drooling for that scarf!  You are amazing! Is there anything you wished I'd asked and didn't?
A:

I'm also a knit designer! I've had designs published by WEBS/Valley Yarns and Malabrigo. I love being inspired by hand-dyed yarn and incorporating elements of things I've learned into new design styles.  I love coming up with different textures and stitch combinations.  It's been hard for me to truly focus on designing though because there are so many beautiful patterns out there that I just want to make all the things!
 I also have a podcast!
Quick Fire questions:
Q: Which Hogwarts house do you belong to?
A:

Shockingly, I haven't read/watched Harry Potter.

 
Q: Go-to sock pattern?
 A: vanilla
Q: What color is your toothbrush? 
A:

pink
Q: If you could be any animal what would it be?
A:

rabbit
Q: Who is your favorite super hero?
 A: mighty mouse
Q: Do you knit in public?
 A: rarely
Q: Favorite snack food?
 A: chocolate
Q: Are you a morning or a night person?
 A: Night
Q: Where would you go if you were invisible?
 A: anywhere
Q: Do you block your socks?
A:

yes
Tell us a little about yourself!
I grew up in Massachusetts, and returned here after going away for college and graduate school. I work in Boston, in higher education research. I've been married (for almost 14 years) to the most loving and supportive husband ever.  We actually went to high school together but reconnected in our early 20s when we started dating. We have no kids or pets, but have 3 nieces and a nephew who live generally close-by that we spend time with whenever we can.
I'm pretty active on both Ravelry and Instagram, and you can watch me on my YouTube channel every couple weeks! I've been podcasting for just over a year and I've met SO many wonderful people in the process.  I absolutely adore this community…the love and support for each other is truly amazing.
Q: Awesome! Where can everyone find you online? 
Use the code HYPNOTIC50 to get 50% off any of Kim's self-published patterns on Ravelry through

May 31st

. (Click Ravelry link above)
Thanks, Kim!  We appreciate you chatting with us today.  Please check out Knot Your Average knits on whichever social media you frequent!