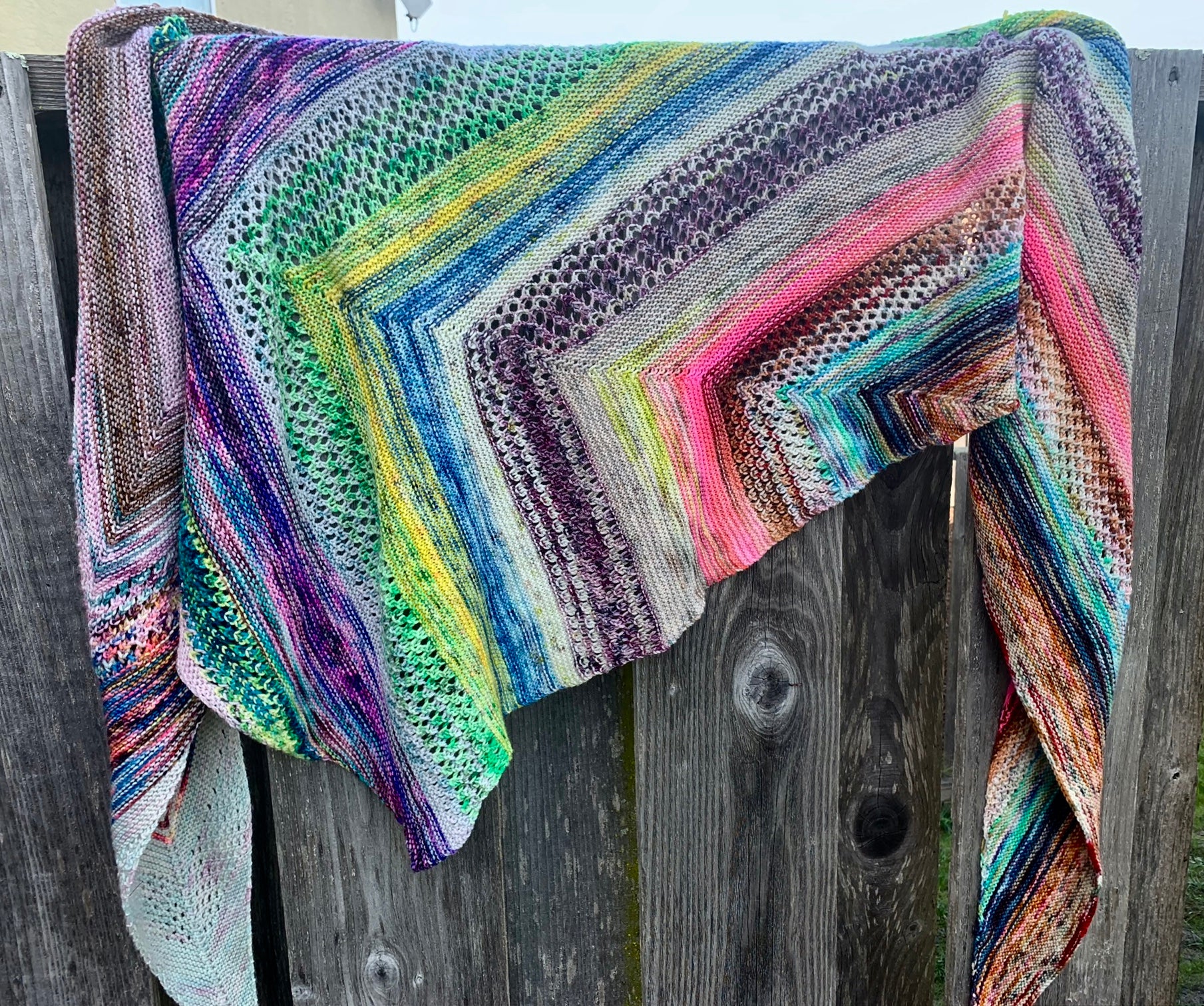 Hello!
I do not remember the last time I had an FO blog for y'all.  Let's not do that research!
The 2019 HY Advent kit included 24 twenty gram fingering weight mini skeins plus a full 100 gram skein of fingering weight yarn.  Like last year, I wanted to use all the minis together in one project and it would need to be a BIG project.  I played around with the idea of making my own shawl pattern when it dawned on me that I have the Find Your Fade Shawl by Andrea Mowry.  She's one of my go-to designers.  It was an easy decision to follow a tried and true pattern rather than experiment making my own.  With the pattern choice complete, I could move on to the yarn.
I love surprises, but I also don't like waiting to open presents and I sure don't have strength to open one mini per day for 24 days.  Honest talk, right here.  So I opened them all and made a lovely little circle out of them. 

Then I wound each of the mini skeins and labeled each with the original day number as labeled on the pillow box.  I decided to knit them in the original order rather than rearrange based on color.  The main reason for this is because my goal, which I failed at, was to knit that day's color and share the following day in the HY Facebook group. 
I don't remember the exact date I casted on, but it was one of the last few days of November.  Despite starting early, I quickly got behind on my daily goal. 
20 grams doesn't sound like much, but it's more than 1-2 hours of evening knitting!
The pattern tells you how and when to change colors.  Obviously, with the mini skeins, I needed to do this more frequently.  When the mini skein was approximately 1/2 used (I checked this by visual appearance and sticking my fingers into the skein and feeling how thick it was-SUPER DUPER accurate, I know.), I started fading into the next skein. I tried to fade over a total of 6 rows, alternating the old and new skein. However, there were a few times I realized I knit too much of the skein and only faded over 4 rows. I used approximately 2/3 of each mini skein.

I finished the shawl in the first few days of January- again, I should have made note with important
information
 as such but I didn't and let's be honest, you're not coming here for accuracy.  erp...well, maybe you are lol  Anyway, in the end it took me around 6-7 weeks to finish the shawl.  Not bad for such a large project! AND I have plenty of yarn left to make a pair of fraternal twin scrappy socks for my youngest daughter.  She loves mommy made knit socks.
A few notes about the pattern.
First-IT'S A HUGE SHAWL!  The wingspan is 101" (that's 8.4 feet or 2.5 meters for the rest of the world)  
Second-it's beginner friendly.  All you need to know is knitting, purling, simple increases and decreases, and yarn overs.  Most of the pattern is knit in garter stitch (knit every row).  To break up the garter, there are simple yarn over lace sections.
Third-it's cozy as all get out.  I throw it in the dryer on low for about 5 minutes to get it warm and then wrap myself up in it while I knit on the couch and listen to an audiobook or podcast.  Livin' my best life.
Lastly, I still have the full skein of yarn that came with the advent kit.  As of right now, I do not have a project attached to it but something will come to me, I'm sure!