So Faded vol III FINISHED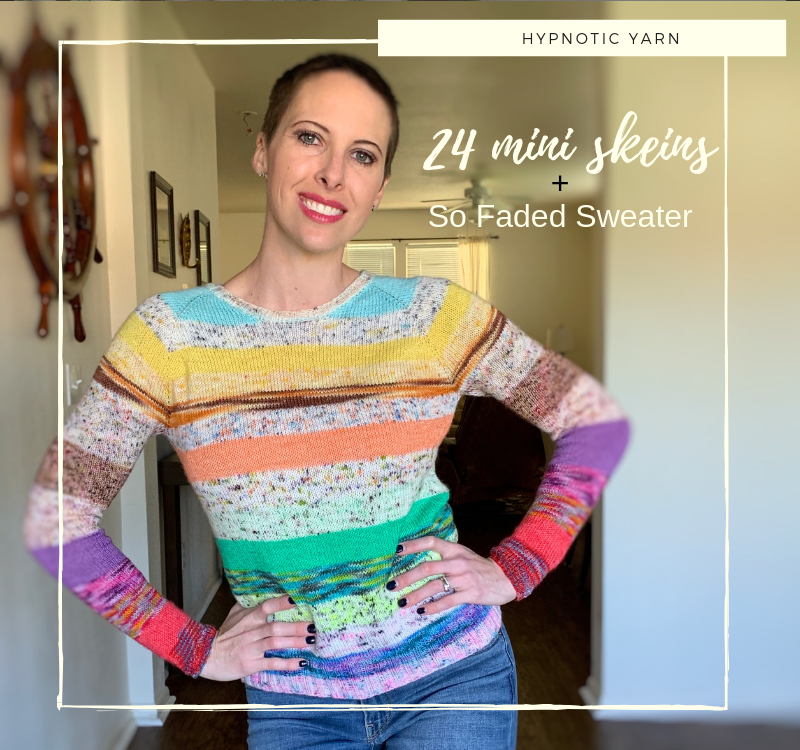 On December 19, 2018, I started knitting the So Faded sweater by Andra Mowry using the 24 mini skeins from the advent calendar kit.
You can read the first blog post about the sweater here and the second blog post here.
We left off that I had 1/2 ish of the first sleeve completed.  In just a few days-3 to be exact- I finished it and the second sleeve.  Stockinette stitch in the round couldn't be any faster and the perfect stitch to watch a movie while doing! (eh hum, Ant Man and the Wasp and the 1st Avengers).
I finished the last stitch on January 20th.  1 month from start to finish! Between being a mom, wife, working (I work part time at an academic library-not sure I've ever mentioned that!), keeping up with yall, sewing, and slayin' life, getting a sweater knit in 1 month is pretty impressive.  I'll give myself a big pat on the back. lol
 Quick recap!
On a whim, I placed the 24 mini skeins in a beautiful fade circle. Epiphany-why not knit a fade sweater?!  I wound and magic knotted the minis together. However, after knitting the body, I re-wound my remaining colors. They were already knotted and wound together into a ball.  I placed the ball on my scale-set to grams.  I wound until the scale was 5 grams less. Super scientific, I know.  Cut the yarn, took it off the winder and then wound the rest of the color (unknotting it from the next color).  Now I had 2 extra mini balls of each color.  Repeat for the rest of my original big ball. Then I labeled each extra mini pair 1-9 (number of colors I had left) so I wouldn't get mixed up on the faded.  I actually talk about and show this in the January mystery yarn club reveal video.  You can find that here.
I knit a size small. I did NOT knit the garner shoulders instead I did straight stockinette. I did notice that this yarn felt like a light fingering weight while I knitted, but my gauge swatch was pretty spot on, so I wasn't too worried. 
Speaking of gauge swatches.  How many of you actually 1-knit a gauge swatch and 2- wash and block it as you would for the item you're making?  Gauge swatches can be fairly large and I feel it's a waste of yarn for it to stay in a square.  For a garment that I will wear (sweater, cardigan, etc) I definitely swatch.  But after counting my rows and stitches, I frog that puppy and put that yarn to real work!
Back to the program!
I tried my sweater on as I knit and the instruction length was perfect for the body of the sweater.  However, I have really long arms.  Hum, I might have mentioned that in one of my Wool and Honey sweater blog posts.  Like long Neanderthal knuckle dragger arms.  (In fact, I did 23 and Me recently and found that I have 304 Neanderthal variants-putting me in the top 11% of people.  haha!  All 304 are in my arms and forehead-which I call the drive-in movie theater.  LOL) I get off topic way too easily.  I knit the sleeves a little bit longer than the instructions say-I don't need high water sleeves in my life. That is the beauty of knitting, you can try on and fit your body perfectly.
I actually went out into the woods to take fun selfies of my sweater.  I have a tripod, nice camera, all the jazz set up and look like a crazy person to anyone who passes by.  When I got home and uploaded all the photos, they were ALL TERRIBLE.  Usually I get a few decent shots.  But not this time.  So I set up my tripod in my living.  Here the lighting was a least better.  That's my excuse for the in house pictures.  Just keep your eyes focused on the sweater!
So how did I come out on my yarn yardage and sweater size?
Instruction size and yardage for size small:
Yardage: 1196 yards
Finished bust: 34"
She recommended picking a size with -2" to +2" ease. My bust (with bra I would wear with the sweater) is 35". The next size up is 38" at the bust.  I knew I wouldn't like my sweater that much larger than my bust.  After 9 years of sewing clothes for myself, I'm pretty good at knowing what will fit my body and what I do and do not like.
My finished measurements:
Yardage of 24 mini skeins (46 yards each): 1104 yards
I added a wee-bit of yarn from my stash to finish the neckline.  I ended up having a small amount of yarn from 3 of the mini skein colors. I wanted every color left to be on the sleeves so I cut a few of the colors short (you can see that on the bottom of each sleeve). I probably only have 4 grams TOTAL left of 3 of the colors (2 grams from each sleeve.  4 grams would be approximately 18 yards.  18 yards times 3 colors is 54 yards.  PLUS! I had another whole mini skein that I didn't touch! I had about 100 yards of the advent minis left over. I have since used them as part of my scrap blanket.  Which is why I didn't just pick them up and weight/measure them to be exact.  I'm super pleased that I had almost exactly the right amount of yarn.  I didn't need to supplement for the neckline, but I'm glad I did because the pinks from the left over sleeves wouldn't have faded nicely on top of the light blue at the yoke.
My finished measurements are:
Flat bust: 16.5" unstretched.  That's 33", but the circumference is actually probably closer to 34".  The bust fits perfectly, that's what really matters.
Shoulder to hem: 21". The instructions don't state this measurement, but thought yall would like to know.
Underarm to sleeve hem: 17".  I think per the instructions it would be 15.75" -ish.
The circumference of my sleeves is definitely fitted. No too tight--But well fitted.  It doesn't bother me; I prefer nicely fitted clothes.  But if one day I decide to get big biceps, the sleeves definitely won't fit! 
I have 4 skeins picked out to make another So Faded sweater.  Now that I know it doesn't take long to knit up, I'll make it pretty soon.  I also take notes and round counts as I go.  In theory, the second time will be even faster.  IN THEORY! lol
What do you think about the pattern and yarn choice?
I'd love to hear your comments!
Thanks for reading and, as always, happy crafting!
-brianne